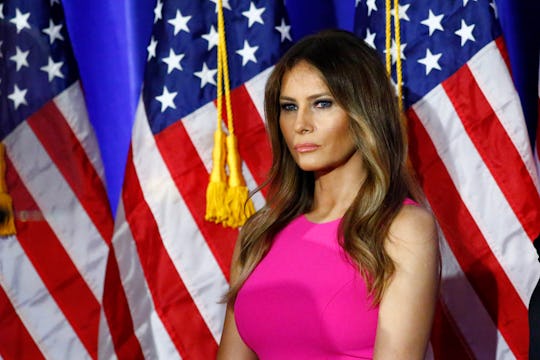 KENA BETANCUR/AFP/Getty Images
Is Melania Trump A U.S. Citizen? She Defends Her Husband's Immigration Policies
Presumptive presidential nominee Donald Trump has a lot of ideas about immigration, so it's worth wondering whether his wife, Melania Trump, is a U.S. citizen or not. Melania was born in Slovenia and came to the United States 20 years ago as a model, according to CNN. She and Trump married in 2005 and then she became a citizen a year later. Trump has said of Melania's immigration process that she "went through a long process to become a citizen" and that she was "very proud of it."
"It was very tough," he said in a 2010 documentary. "When she got it, she was very proud of it. She came from Europe, and she was very, very proud of it. And she thinks it's a beautiful process when it works."
It was a long process to become a citizen, Melania has reiterated in the past. And she talks very openly about the process, especially since Trump's policies on immigration — like building a wall at the Mexican border or banning Muslims from entering the country — are sort of the crux of his campaign. According to Politico, Melania has previously noted,
I followed the law. I never thought to stay here without papers. I had a visa, I traveled every few months back to the country to Slovenia to stamp the visa.
She said, "I came back, I applied for the green card, I applied for the citizenship later on after many years of green card. So I went by system, I went by the law. And you should do that, you should not just say let me stay here and whatever happens, happens." It's a long, imperfect system, but she does have a point.
Melania also totally stands by her man. Trump has said some very interesting (to say the least) things about immigration policy in the United States, like cracking down on Mexicans entering the country, but he also claims that he wants to streamline the processes the country currently has in place. "We want people to come into our country...legally, legally," he said at a rally earlier this month.
In fact, Trump has a thing for immigrants when they're female and from Europe; His first wife Ivana was from Czechoslovakia. According to CNN, Ivana didn't become a citizen until 11 years after she and Donald Trump married in 1977.
Trump does say a lot of crazy things but when it comes to immigration, he has spent some time with women who know what they're talking about and know how to get the citizen process moving along. Maybe he'll let them help him out when it comes to finalizing his policies on immigration for the general election. Unique perspectives are always a good thing, after all.