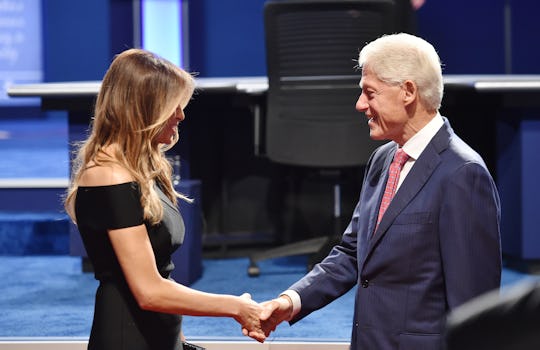 PAUL J. RICHARDS/AFP/Getty Images
Is Melania Trump At The First Presidential Debate? She's Been Off The Radar Lately
The first presidential debate is upon us, and while both candidates are taking center stage at Hofstra University to discuss the issues at hand, many are wondering who is in the audience. Presidential hopefuls Hillary Clinton and Donald Trump usually travel with their respective entourages, so it's not uncommon to wonder who they've decided to bring with them. It's no surprise, of course, that many viewers are wondering, " Is Melania Trump at the first presidential debate?" After a few high-profile incidences during the campaign, she's been noticeably flying under the radar this summer.
Melania hasn't been that active on the campaign trail recently, at least not after she gave a speech at the Republican National Convention in July where she lifted lines for her speech from a speech of First Lady Michelle Obama's. The clear plagiarism was somewhat of a embarrassment to the Trump campaign, and Melania has seemed to limit her public speaking appearances ever since.
Even if she's been laying low this summer, the first debate of election season is a pretty major event. Historically speaking, spouses and families almost always attend major events like debates, even if they have forgone some of the campaign stops. One reason is that these debates, unlike every individual stop on the campaign, are televised nationally and give the voting American public a glimpse at their potential next First Family.
Trump's wife, Melania, was born in Slovenia. She was a model before marrying Trump in 2005. Together they have one child, a son named Barron who was born in 2006 — the same year Melania became a citizen of the United States. She had arrived in the states about 10 years earlier to model, and became a permanent resident in 2001.
Her citizenship has often come up in the context of Trump's political views on immigration, which are in and of themselves controversial and inconsistent. In fact, Trump's understanding of his own wife's immigration status has even come into question at times. Just last week Melania's attorney released a letter regarding her immigration status, hoping to clear up any misunderstandings. Melania then tweeted the letter, which she said stated "with 100 percent certainty" that she went through the proper legal procedure for becoming a U.S. citizen:
A tweet from CNN's Jake Tapper shows reserved seating for Trump's daughter, Tiffany, and son Eric. Tiffany is the daughter of Donald Trump and Marla Maples, and Eric is Trump's son with Ivana Trump — his wife prior to Melania.
Live footage from the hour leading up to the debate by the Washington Post showed Trump and his entourage getting out of their SUV (with a police escort to the Hofstra Campus by the looks of it) and Melania was nowhere to be seen (about a half hour later, Hillary and Bill Clinton arrived together). But as the debate began, Melania was spotted with the rest of the Trump family front and center. She also continued to stand beside Trump throughout the press line at the end of the debate. So, while her presence seemed to be missing at the beginning of the debate, she was indeed there, rooting on her husband.