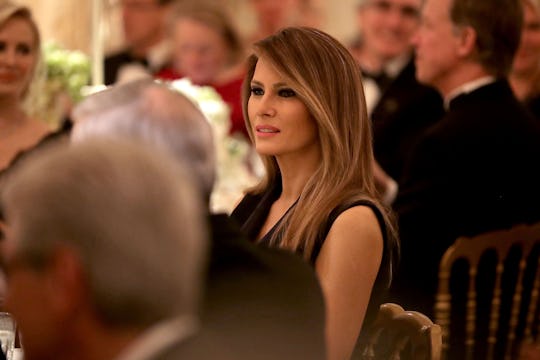 Chip Somodevilla/Getty Images News/Getty Images
Is Melania Trump Attending The Correspondents' Dinner?
A Washington, D.C. tradition is set take place Saturday night — the White House Correspondents' Dinner — coinciding with President Trump's first 100 days in office. While the president has made it clear he won't be going, is Melania Trump attending the White House Correspondents' Dinner? Mum's the word about whether the first lady — or any other member of the Trump family — will be in attendance Saturday night at the Washington Hilton. Melania's social media accounts don't give any indication one way or the other, and the first lady has kept her public appearance cards pretty close to her pocket since husband Donald was inaugurated. The White House has not responded to Romper's requests for comment regarding whether any member of the Trump family will be attending the dinner this year.
If Melania does make an appearance, she certainly won't be there on the arm of the president. Trump has a busy Saturday night planned at the Pennsylvania Farm Show Complex and Expo Center In Harrisburg, where he will hold a "BIG" rally at the same time as the the White House Correspondents' Dinner. There has been no word about whether Melania will be at Trump's side in Harrisburg, either.
The last time either Donald or Melania Trump were at the White House Correspondents' Dinner was in 2015; the couple skipped the dinner during the height of the Republican primary season last year. Of his absence from the 2016 White House Correspondents' dinner, Trump told CNN last year, "The press is very dishonest, they don't report the truth and therefore it's easiest not to go." After calling the press "the enemy of the people" in February, it really wasn't that much of a surprise when Trump tweeted his White House Correspondents' Dinner RSVP later that same month.
Even despite his obvious contempt for journalists, Trump has some beef with the White House Correspondents' Association, when President Obama and comedian Seth Meyers roasted Trump to basically a burnt crisp in 2011. Melania, too, was present for the now infamous night. She told The Daily Beast at the time, "We always have fun." When asked in 2011 about a presidential run for her husband, Melania coyly replied, "Well, he will make a decision prior to June, so we will see what happens." And of course, we know how that turned out, however improbable and inconceivable it might have seemed at the time.
As it stands, Melania could just be spending a night in with son Barron at her family's posh residence at Trump Tower in Manhattan rather than bare the brunt of the media's likely roasting of the current administration, or rally it up in rural Pennsylvania with her husband. Honestly? I wouldn't blame her if she did stay home for the night.