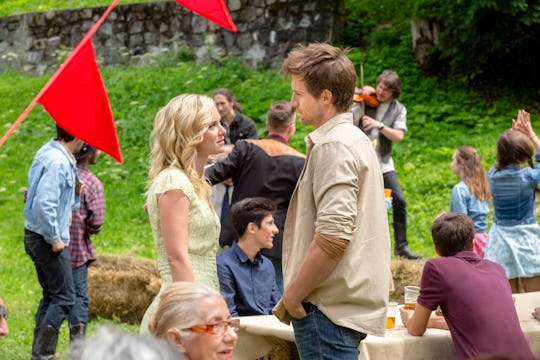 Hallmark
Is Merania From 'Royal Hearts' A Real Country? Don't Book Your Plane Ticket Just Yet
In Hallmark's latest movie, Royal Hearts, James Brolin plays a Montana rancher who finds out that he has inherited an entire country called Merania and is also the new king of the land. So he and his daughter Kelly, played by Cindy Busby, head to the gorgeous country to assume their royal duties, where they both learn a lot about themselves. This country looks so beautiful, I wanted to add it to my travel itinerary right away. But first, I had to wonder: is Merania from Royal Hearts a real country?
I mean, I was pretty good at geography back in school and tend to think I know everything. So it concerned me that I had never heard of this small, beautiful monarchy, where they just import their kings and the princess can fall in love with very attractive sheep farmers. Like, if this is what Merania is selling, I'm all about it.
Busby said in a cast interview with Hallmark that one of the best things about filming the movie was the location. "It's beyond anything you could ever imagine," she said. Busby added that the location really brings the love story and fantasy of becoming royalty overnight to life. She explained in the same interview that it was all "beautifully shot" and that the whole experience is "so romantic and rich." But is Merania real or not?
Merania was real once upon a time. It was a fiefdom under the Holy Roman Empire from 1152 to 1248, according to historians. However, the exact territory is still debated, since it's mentioned in different historical texts as occupying different areas of land. One thing Merania's historians agree upon is that the Duchy of Merania likely included the coast of the Kvarner Gulf and included the town of Fiume, which is in Croatia. So, there was a place called Merania once, but it doesn't exist anymore. It's totally fictional.
The movie filmed in Bucharest, Romania, though, to get that Eastern European feel, and it really is gorgeous. Busby said in a cast interview on the Hallmark website that it was the perfect choice to bring the fictitious Merania to life. Busby said that the area "really brings an authentic real energy to the project." She explained:
And the locations are just so stunningly beautiful and intricate. You kind of can't replicate something like that and the textures, even on the walls, it's just really rich, especially on camera. I think the locations and decor is character in and of itself.
Andrew Cooper, who plays Busby's love interest, added in his own cast interview that being in Romania was "amazing," adding, "There's tons of history, and beautiful buildings." However, they split time between the city of Bucharest and then filming in Transylvania, which Cooper said his co-star, Busby, was very excited about, since she's a bit of a Dracula fan.
Both of the locations are gorgeous, as are the scenes from the beginning of the movie in Montana, though there's nothing very realistic about anything in the movie, so if you were hoping that this film was based on true events, I'm sorry to disappoint you. However, if you're hypnotized by the scenery in the movie, you can always book a flight to Bucharest or Transylvania, which are popular tourist destinations in Europe, where you can pretend that you've just inherited a medieval palace and kingdom.
Then, if you're really adventurous, you can hop on over to Croatia and try to get to the bottom of what the old, actual kingdom of Merania looked like.
Check out Romper's new video series, Romper's Doula Diaries:
Watch full episodes of Romper's Doula Diaries on Facebook Watch.