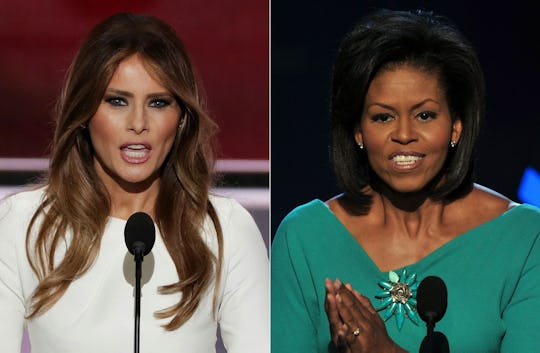 ALEX WONG/AFP/Getty Images
Is Meredith McIver Real? The Trump Speechwriter Is The Latest Conspiracy Theory
On Wednesday, Trump campaign speechwriter Meredith McIver issued a statement taking the blame for Melania Trump's Monday night speech, which was criticized for including lines from Michelle Obama's 2008 Democratic National Convention speech. McIver attempted to resign, according to multiple outlets that published a letter reportedly she had reportedly written in apology, but Donald Trump and campaign officials reportedly would not have it. Since then, however, McIver has been making headlines for an entirely different reason. Although she is named as a ghostwriter on some of Trump's books, many people on social media don't believe that Meredith McIver is real. Of course, she is. She has to be, right?
Let's discuss.
According to some Internet sleuthing, McIver is 65-years-old and has worked for the Trump Organization since 2001. She is listed as a ghostwriter on a lot of his books, too. But other than that, her Internet presence leaves a lot to be desired. She has no Facebook or social profiles, but some jokesters out there have created some for her. Conspiracy theorists are joking online that her name is really, really similar to McGyver and note that there was a Rickroll in her speech for Melania on Monday night. They're also wondering about the statement she submitted today, on Trump letterhead but in her name, that she didn't read at a podium in fromt of cameras, but emailed to major media organizations.
I mean, Trump has made people up before, so it's a question that is definitely worth asking.
Yes, once upon a time in the '90s, Donald Trump called a People magazine reporter pretending, allegedly, to be a publicist named John Barron. A recording of the phone call was released earlier this spring and I have to say: it sounds a lot like Donald Trump. He told the reporter, who was working on a story about his divorce and relationships with women, that he was popular with women and did some very general bragging, as everyone (lover or hater) knows Trump is wont to do. Trump insists Barron is real, but no one can find him. He also has the same name of Trump's 10-year-old son. It probably, if he did pretend to be Barron wasn't malicious. It was probably a very wealthy man just having a little fun with the media. But — it's weird.
It also makes it entirely acceptable to question McIver's existence. She has, though, been mentioned in articles on Trump in the past, according to Slate. Someone on Twitter has also posted images of correspondence with her.
So, fine. She's real. But the Trump campaign has to produce her at this point, in bodily form. And Trump surrogates will probably pretend that the questioning of her existence is another attack on their candidate. But it's not the Internet or the media that is silly. Donald Trump did a silly thing once and wasn't really very forthcoming about it. All Twitter is asking for is some proof. It's not their fault they don't trust him.