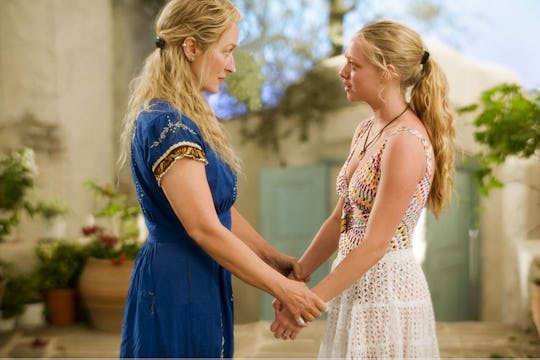 Universal
The 'Mamma Mia 2' Trailer Is Here, & Fans Are Seriously Upset About Meryl Streep's Role
When news first broke that the beloved 2008 movie musical Mamma Mia! was getting a sequel, I admit that I was a little skeptical. How could anything possibly compare to the larger than life spectacle of the original? But now that the Mamma Mia! Here We Go Again trailer is here, fans are seriously wondering if Meryl Streep is in Mamma Mia! 2. From the looks of it, a lot has changed since the first one, and that may not bode well for huge Meryl fans.
As the trailer stands, it is unclear if Meryl Streep's Donna has died, or if she is still alive when Sophie returns to the island pregnant. From the looks of it, though, it appears that she has died and her memory is still alive through her daughter and her friends. (And that amazing island she lived on.) The film does seem to revolve around Sophie's journey to understand her mom as she went through the most formative years of her life — meeting men, falling in love, and having a baby.
Details on the film have been somewhat scarce leading up to this moment. Fans knew Lily James would be portraying the role of "Young Donna" while Meryl Streep would (seemingly and evidently sparsely) reprise the beloved character in more modern day sequences (she's credited on IMDb). This means the movie will jump back and forth in time to give us a glimpse into Donna's backstory. (So, in that case, this will serve almost like a prequel rather than a sequel.)
Still, fans are seriously upset about the superstar's (possible) fate in the new film. Still, we don't know from the trailer if she actually died, but it seems that she may have based on how her friends are talking about her.
Not all faith should be lost, though. Other returning favorites include Pierce Brosnan, Dominic Cooper, Amanda Seyfried, Christine Baranski, Stellan Skarsgård, and Colin Firth, who can all be spotted in the trailer. Oh, and did I forget to mention the fact that Cher is also in this? She'll be taking on the part of Ruby Sheridan, aka Donna's mother. The film is written and directed by Ol Parker (The Best Exotic Marigold Hotel), and don't worry — there's absolutely going to be a ton of ABBA songs, both old and new, featured throughout the movie, so get ready to get back in touch with your inner Dancing Queen!
In case you need a little refresher, the original Mamma Mia! movie musical — which was based on the hit Broadway show of the same name — followed the story of Sophie (Seyfried) as she attempted to track down her biological father by inviting three possible candidates to her wedding without her mother's (Streep) knowledge. The three men were Harry (Firth), Sam (Brosnan), and Bill (Skarsgård). In the end, though, Sophie realized that it didn't really matter who her real dad was since she had grown to love all three of them. Meanwhile, Donna married Sam while Sophie and her fiancé Sky (Cooper) decided to postpone their own nuptials and travel the world instead.
So where are they now? The new trailer gives us a few clues to work with.
Mamma Mia! Here We Go Again is scheduled to hit theaters on July 20, 2018.
Check out Romper's new video series, Romper's Doula Diaries:
Watch full episodes of Romper's Doula Diaries on Facebook Watch.