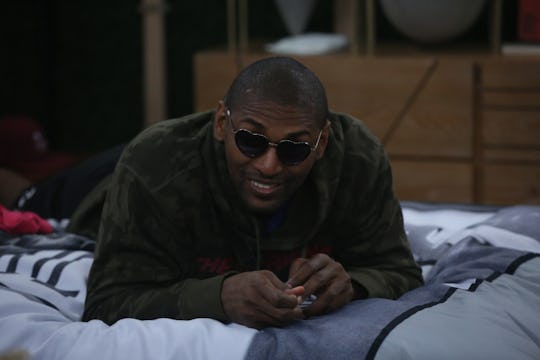 Monty Brinton/CBS
Metta World Peace Has Someone Special In His Life Outside Of 'Celebrity Big Brother'
Celebrity Big Brother is now in full swing and while many of the houseguests are working and strategizing on how to win the game there are others who are a little lost. Former NBA basketball player Metta World Peace is struggling a bit in the house. He has mentioned a few times wanting to leave to return to his family and someone else equally special in his life, which may have fans wondering: is Metta World Peace married? Fans appreciate him for the comic relief he provides on the show, however, he may not stick around for long if he continues to be so homesick for the ones he loves.
Before Metta was Metta World Peace he was Ron Artest. During that time he married Kimsha Artest, but the couple quietly divorced in 2009. They now share joint custody of their three children, Sadie, Ron II, and Diamond. Metta also has another son, Jeron, with his high school sweetheart, Jennifer Palma, but they aren't together either. So who is it that Metta is missing in the Big Brother house? That would be Maya Ford.
It's hard to say when exactly the pair started dating, but they were first spotted together in July 2013. Since then the couple have been going strong, taking cute pics and videos together in places like Paris, France, celebrating holidays together, and they often walk red carpets together.
Unlike regular seasons of Big Brother, the celebs are actually able to have a little contact with the outside world. Although they can't get responses from people, they're allowed to type out a social media post every once in a while that goes out to the world.
In one such instance, Metta listed missing all of his kids and then wrote "Maya World Peace," with a number of heart emojis and rings. Could that possibly be a marriage proposal or hinting that it'll happen sometime in the near future? It's hard to say (there are only 280 characters in a tweet after all), but it definitely seems like marriage could be in the future for Metta and Maya.
Perhaps being trapped in the BB house has made Metta realize he never wants to be without Maya. It's definitely clear he misses her and wants out of the house. Only a few days in he tried to convince Shannon Elizabeth, the first and very brief Head of Household, to get rid of him, but she refused. Plus, according to live-feed viewers, Metta has already tried to leave the house twice. He even went so far as to hit the "emergency button" in the house, however the producers were able to convince him to stay, which has been great for viewers.
Not only does Metta not seem to understand how to play the game (he accidentally voted to evict Chuck Liddell out of the house), he also doesn't seem to care about it. Metta is just in the Big Brother house to have a good time, and funny enough, it's that kind of attitude that will probably make him go far in the game.
He's currently on no one's radar because no one sees him as a threat, and if he really does ever want to go home that badly, his fellow houseguests will probably send him out, as was proven when Keshia Knight Pulliam was unanimously evicted on Monday night because she wanted to return home to her baby.
So Metta is basically sitting pretty at this point. Whether his cluelessness about the game is real or an actual game strategy, Metta's definitely in a good place in the house right now.
You can see Metta and the rest of the houseguests when Celebrity Big Brother airs on CBS.
Check out Romper's new video series, Romper's Doula Diaries:
Watch full episodes of Romper's Doula Diaries on Facebook Watch.