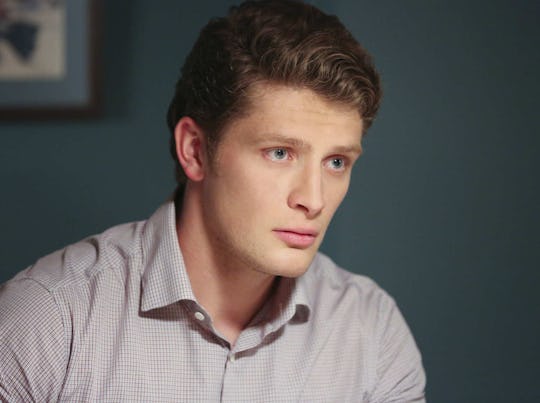 CW
Is Michael Alive On 'Jane The Virgin' Season 3? His Life Hangs In The Balance
A lot went down in the Season 2 finale of Jane the Virgin but the one question people haven't been able to stop asking is will Michael live in Jane the Virgin Season 3? Right now it's unclear. After Michael and Jane finally tied the knot and were about to have sex, making Jane a virgin no more, Michael made the tragic mistake of going to get ice. In the hallway he runs into his partner, Detective Susanna Barnett, who it turned out wasn't actually Susanna at all. It's hard to know whether Susanna was ever actually who she said she was or if she was always working against Michael, but the fact is the Susanna Michael meets in the hallway and reveals that she is actually Rose (as in Sin Rostro!) and she can't let her secret be revealed.
Once Michael made the connection and turned back around to face Susanna/Rose, she had her gun pointed at him and shot him right in the chest. Based on the trailer for Season 3, it's clear that Michael is in dire straights. The fact that he was able to be taken to the hospital indicates that he isn't dead yet, but things aren't looking good for him right now. The cast has been pretty quiet about whether or not Michael will survive but Gina Rodriguez did admit to Entertainment Weekly that the premiere episode is "very heavy."
For those of us on Team Michael, losing him would be a devastating loss. Jane and Michael just got their happy ending, only to have it snatched away from them only moments later. After two seasons of will they/won't they and questions about who Jane would choose it seemed like Jane had finally found the one. She didn't even get to enjoy being married to Michael for an entire 24 hours before he was shot, and if she loses him now it will be heartbreaking.
On the other hand, if you're Team Rafael you may be rejoicing in Michael's possible demise. Of course you didn't want him to die (maybe you did; no judgement) but you definitely didn't want Jane to end up with him. With Michael out of the picture that leaves the door wide open for Rafael to step right in.
So will Michael survive this or will we have to say goodbye to Michael once and for all? Find out on during the Jane the Virgin Season 3 premiere on Oct. 17 at 9 p.m. EST on The CW.