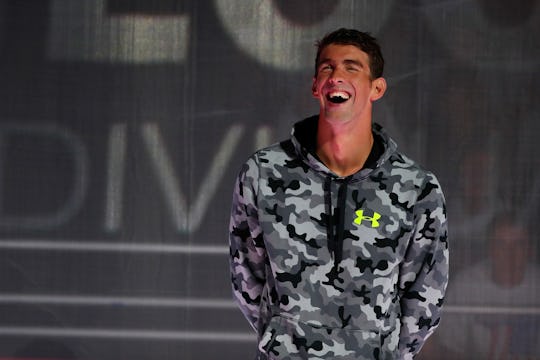 Al Bello/Getty Images Sport/Getty Images
Is Michael Phelps Competing In The Olympics? He's Headed To Rio For His Last Games
On Saturday, 18-time Olympic gold medalist Micheal Phelps completed his final race in an American pool, this one in Omaha, Nebraska. And, as he usually does, the 31-year-old swimmer hit the wall first after gaining momentum throughout the 100-meter butterfly race. It's the third individual event he's qualified for during these trials ahead of the Olympic Games this summer in Rio de Janeiro, despite now openly admitting to feeling his age, and so powerhouse Michael Phelps is definitely competing in the Olympics once again.
When asked whether he'd expected Phelps to beat him, the man who claimed second place in the event, Tom Shields, simply replied, "Of course! He's Michael Phelps!" The Baltimore Sun reported.
Shields' humble reaction to coming in second to Phelps — albeit by two-tenths of a second — is emblematic of the reverence with which his fellow athletes and the American public view him. He solidified his status as a household name when he dominated the Beijing Olympics as a 23-year-old in 2008. And having earned 22 Olympic medals, he is now the winningest Olympian in history.
After a brief flirtation with retirement in 2012 (the lack pf rigorous training only aggravated his attention deficit hyperactivity disorder), Phelps is back and gearing up for his fifth Olympics. He's said Rio will be his last.
In addition to the 100-meter butterfly, an event that Phelps has won gold in three times in a row, he also qualified to compete in the 200-meter butterfly as well as the 200-meter individual medley in Rio. He'll almost certainly be on all three of the men's relays, too, according to Fox News, meaning he'll have six more opportunities to add even more gold medals to his ridiculous repertoire.
But for Phelps, blowing through the water is much more strenuous, and takes much more of a toll on his body, than before. Although he finished the Olympic trials three-for-three, Phelps has also been forthcoming with his self-criticism, admitting that his legs do not feel as strong as he wants them to and noting the sloppiness of his own flip turns.
"I do understand that I have to swim faster to have a chance to win the gold medal," he said, according to The Sun. "I do know that."
Phelps first arrived on the Olympic scene when he was just 15. At the time, the questions he fielded at press conferences included whether he had a girlfriend and whether he'd kissed her, according to the Sun. Sixteen years later, his fiancee, Nicole Johnson, and 8-week-old son, Boomer, were in the stands as he clinched his fifth trip to the Olympics.
They're undoubtedly proud of him (well, Boomer will be once he's old enough to realize what the heck his dad accomplished), especially because Phelps did not get to where he is without his own personal challenges. He's had two DUI arrests since becoming the most decorated Olympian ever, and completed a 45-day rehab stint in 2014. When he returned to the sport, Phelps told USA Today that he was no longer entering the pool "kicking and screaming," showing that even one of the best athletes of all time doesn't always display pure dedication.
But he's refocused, and, by the sounds of it, ready to win. Come August, the entire country will be cheering him on.