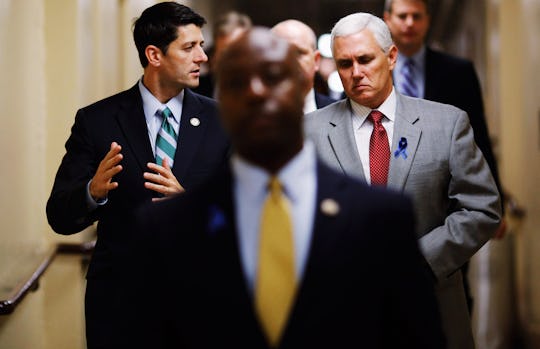 Chip Somodevilla/Getty Images News/Getty Images
Is Mike Pence A Tea Party Member? The Potential Trump VP Pick Has Raised Questions
Following weeks of speculation and political sidestepping, it seems presumptive GOP nominee Donald Trump has chosen his vice president. On Thursday, Roll Call and The Indianapolis Star reported that Trump would name Indiana Gov. Mike Pence as his running mate at a rally on Friday, solidifying himself as the right wing candidate and forgoing advice to select a second in command that swung further to the center. Trump's camp has since denied the reports, but political insiders claim that sources inside the GOP have confirmed the rumors. Pence's tenure as governor has certainly raised eyebrows in recent months, with the passage of a controversial religious freedom bill making headlines and drawing criticism, and now that he's reportedly been tapped for the Trump ticket, it only makes sense that voters are asking whether Pence is a member of the Tea Party itself, and whether those on the Hill should beware of an impending, aggressive push to the right.
UPDATE: Trump confirmed Pence as his vice presidential running mate in a tweet Friday morning and said he would host a news conference on Saturday.
It's a fair question, given that most analysts believed Trump would pick a more middle of the road VP candidate. Without a doubt, the list of vetted figures — which included former House Speaker Newt Gingrich and New Jersey Gov. Chris Christie — didn't read as a a roster of unfettered centrists by any means, but as NBC News' Perry Bacon Jr. pointed out, those selections did hint at possible long-game strategy that aimed to bring in nervous voters worried about Trump's lack of political know-how and those on the fringe who were prepared to vote for a Democrat over a more radical candidate. Choosing Pence would throw all those concerns to the wind.
A member of the House from 2001 to 2013, representing Indiana's 2nd and 6th districts, Pence prided himself on his strong conservative platforms and was a member of the Tea Party Caucus, as well as chairman of the Republican Study Committee (which advocates for aggressive non-defense spending cuts and the right to bear arms). As chairman of the latter, Pence in turn shared mutually beneficial working relationships with conservative allies such as The Heritage Foundation, Focus on the Family, and the National Rifle Association, as well as with noted conservative publication, The National Review. As a member of the Tea Party Caucus, which is notably older, male, and white in demographic, Pence shared connections with many in the oil and energy industries.
According to The Washington Post, Pence was among of the first congressional members to back the official Tea Party Caucus and the Tea Party movement as a whole. "One of Pence's former advisers told NBC that even before the 2010 summer of discontent between conservatives and the establishment, Pence was tuned into the populist strain of the party," Amber Phillips wrote. "While in Congress, he voted against big spending bills that the tea party would come to loathe."
Pence's recent moves as Indiana governor give voters a glimpse at the potential draw for the Trump campaign as well; His most recent headline-grabbing move included signing into law the highly controversial SB 101, known more commonly as the Religious Freedom Restoration Act, back in March this year. While several large businesses and corporations rejected the move — with several threatening to cancel events and move headquarters or projects from the state in protest — Pence stood his ground. Eventually, Pence prompted the addition of a "fix" amendment meant to protect LGBT individuals from any discriminatory fallout, but continued to defend his initial approval.
"Over the past week this law has become a subject of great misunderstanding and controversy across our state and nation," Pence wrote in a statement that month. "... Last weekend I called upon the Indiana General Assembly to clarify that this new judicial standard would not create a license to discriminate or to deny services to any individual as its critics have alleged. I am grateful for the efforts of legislators, business and other community leaders who came together to forge this clarifying language in the law."
Pence's stalwart conservative views and religious background likely served as a tipping point for Trump and his advisors, who waffled between Pence, Gingrich, and Christie for months before ultimately coming to a reported decision this week.
Whatever the case, Trump has been playing it coy this week, refusing to comment directly on the Pence rumors. "I don't know if he's going to be your governor or your vice president," Trump joked at rally in Westfield, Indiana on Tuesday. "Who the hell knows?"