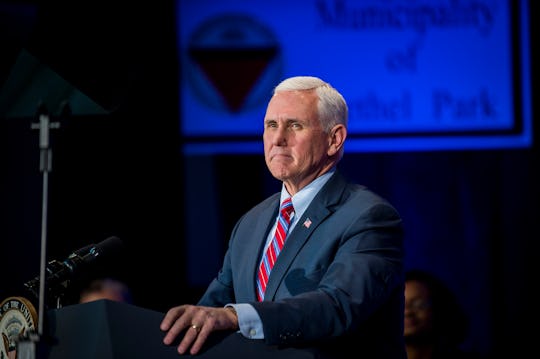 Pete Marovich/Getty Images News/Getty Images
Is Mike Pence At The Super Bowl? The Veep Is A Big Fan Of The Game
Last year's vice presidential delegation to the Super Bowl, which included an entourage of 35 people Vice President Mike Pence brought along with him, reportedly cost taxpayers $89,246. Given the Trump administration's rocky relationship with the NFL over the past year, some Super Bowl 52 viewers are bound to be wondering: is Mike Pence at the Super Bowl? Last October, he famously attended a Colts-49ers game just to walk out when some players inevitably took a knee during the national anthem. That obvious political stunt cost nearly $250,000, according to an estimate by CNN. Little regarding NFL players' reasons for protest has changed over the past year, while the Trump administration digs its heels into its condemnation of kneeling during the national anthem, and Trump brags about how he's tanked NFL ratings. So it seems like Pence's attendance or lack thereof will be politicized either way.
One possible clue regarding whether we'll be seeing the Vice President at the Super Bowl is President Trump's refusal to do a traditional game day interview this year. Sitting presidents have completed interviews on the day of the Super Bowl for the past decade, but when NBC extended an invitation to Trump, he declined. (Last year, he did a game day interview with Bill O'Reilly, which aired on Fox Sports.)
As of 7 p.m. Eastern Time on Sunday night, there hadn't been any sighting of the Vice President at the big game, but he did take some time to check in on Twitter and RT the "Presidential Message on Super Bowl LII":
Tweeted originally by Press Secretary Sarah Sanders, the president's message was a long missive about how much he respects the nation's service members through his decision to proudly stand during the national anthem. Given that the Armed Services have literally nothing to do with the Super Bowl, other than that some service members like going to football games, and some football players probably know some folks in the Armed Services, the presidential message has very little to do with the game itself. It reads in its entirety:
As many Americans come together to watch the Super Bowl, Melania and I extend our greetings and appreciation for those who make occasions like this possible, particularly the brave men and women of our Armed Forces.
Though many of our Nation's service members are unable to be home with family and friends to enjoy this evening's American tradition, they are always in our thoughts and prayers. We owe these heroes the greatest respect for defending our liberty and our American way of life. Their sacrifice is stitched into each star and every stripe of our Star-Spangled Banner. We hold them in our hearts and thank them for our freedom as we proudly stand for the National Anthem.
We send our best wishes for an enjoyable Super Bowl Sunday. May God bless and protect our troops, and may He continue to bless the United States of America.
Aside from that retweet, the only other thing on Pence's timeline from the day of the Super Bowl is a reference to an Amtrak crash in South Carolina.
So it looks like the Vice President is standing with the President in supporting the Armed Forces, and ignoring both the protest issue at hand and the game itself. It's not a huge surprise, but twisting a gesture of dissent into something it's not and then deflecting all the focus onto the non-thing that no one is talking about is kind of this administration's ~vibe~.
Check out Romper's new video series, Romper's Doula Diaries:
Watch full episodes of Romper's Doula Diaries on Facebook Watch.