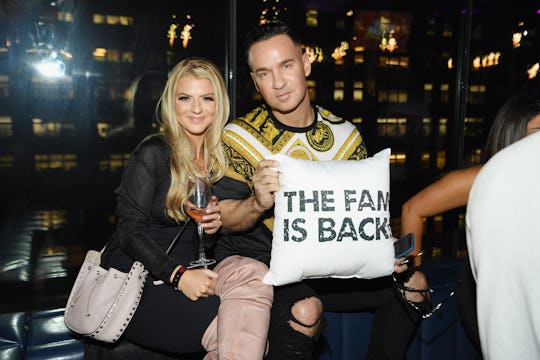 Dave Kotinsky/Getty Images Entertainment/Getty Images
Mike Reveals Whether He'll Get Married On 'Jersey Shore Family Vacation'
Season 1 of Jersey Shore Family Vacation, the reunion which brought the original cast of Jersey Shore back together for a month-long romp at a Miami vacation house, ended with Mike "The Situation" Sorrentino proposing to his girlfriend Lauren. Since the series got picked up for a second season before Season 1 even went to air, fans are naturally wondering: is Mike's wedding going to be on Jersey Shore Family Vacation? You guys, SallyAnn Salsano would never deny us that premium content.
Mike confirmed via Twitter that the wedding would air as part of Season 2, which premieres in August. On July 3, he quote tweeted a fan who wrote, "I wonder if Mike and Lauren's wedding will be televised! I really hope so!" Mike replied, "Yes! Season 2 of #JSFamilyvacaton." We can expect that they'll be surrounded by the rest of the macaroni rascals, as well as Mike and Lauren's big Italian families. In an exclusive interview with US Weekly, Mike revealed that the couple was ideally imagining a small and intimate destination ceremony with a big reception closer to home where everyone can celebrate and enjoy. "I think we're going to try to have the best of both worlds," Lauren added.
The couple, who met in college, has known each other since 2009 and dated on and off since then. But after Mike entered treatment for substance abuse, pleaded guilty to tax evasion, began living sober, and Lauren became a major source of support in his life. He spoke at length during Jersey Shore Family Vacation about how she had been his rock over the past few years. Now now that his life had finally leveled out, he said, he was ready to get married. The proposal took place on Valentine's Day, with a little help from producers and the whole cast.
"Once we got the chance to do Family Vacation, I approached the executive producers and I let them know, 'Listen I really want to do this. This show is really special to me. This is the show that introduced me to the world,'" Mike said. "It was really special for me to do this, to get down on one knee on Jersey Shore."
Of course, he technically got down on one knee in Miami, but the couple did stage their engagement shoot at Pier Village in Long Branch, New Jersey and Jenkinson's Boardwalk in Point Pleasant. Mike looked right at home kneeling on the boardwalk with the ocean behind him.
Lauren also said that she appreciated how much time the couple spent together before getting engaged. She really feels they have a solid foundation going into marriage, telling Us Weekly:
The amount of time I've waited for this moment has humbled me and made me be able to be more mindful and appreciate the moment. As much as people don't want to hear it, it's always worth the wait. It couldn't have happened at a better time in our lives.
Jersey Shore Family Vacation Season 2 premieres August 23 on MTV.