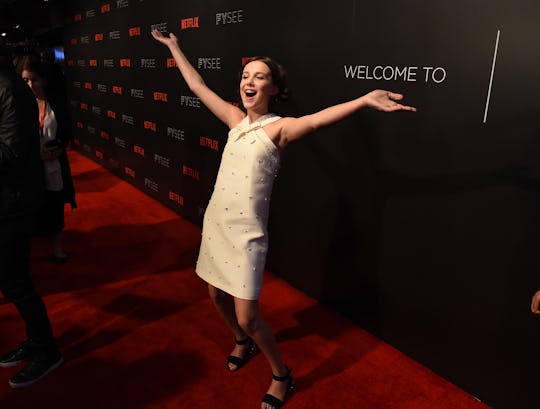 Kevin Winter/Getty Images Entertainment/Getty Images
Is Millie Bobby Brown The Youngest Emmy Nominee?
The 69th annual Emmy Award nominations were announced on Thursday morning, and Stranger Things' Millie Bobby Brown is the youngest nominees in decades, according to TV Guide. The only child actors who have won the coveted trophy are Roxana Zal, who was 14 at the time, and Kristy McNichol, who won at age 15 and again at 17. Forbes reported that Brown is up for Outstanding Supporting Actress in a Drama. Zal won for Outstanding Supporting Actress in a Limited Series for her role in Something About Amelia in 1984, and McNichol took home the Supporting Actress trophy for her role on the drama series Family in 1977 and 1979.
But a nomination is only a step closer to the win; Brown has some fierce competition. She's facing off against Orange Is the New Black's Uzo Aduba, Chrissy Metz from This Is Us, Thandie Newton for her work on Westworld, and two actresses from The Handmaid's Tale, Ann Dowd and Samira Wiley. Aduba has already won twice for the same role, in 2014 and 2015. Both she and Brown appear on Netflix original series, playing spooky but lovable characters with interesting hairstyles, but that's where the similarities end. It can't be easy to choose between the two (no offense to the other four nominees).
Brown isn't actually the youngest Primetime Emmy nominee ever; Keshia Knight Pulliam holds that record. She only 6 years old when she was nominated for her supporting role as Rudy Huxtable on The Cosby Show, according to BET. Still, there are only a handful of kids who have ever been nominated throughout the nearly seven decades that the Academy of Television Arts & Sciences has been honoring actors. According to the The Daily Beast, minors have historically been nominated at a rate of about once per decade. The last child nominee was Frankie Muniz in 2001.
Brown still has a chance to set a record if she wins, and based on her breakout performance on the sci-fi thriller last year, I'd say she stands a pretty good chance. In a brief phone interview with the New York Times, Brown graciously downplayed her nomination, focusing instead on the fact that Stranger Things garnered a total of 18 nominations, all told. "I'm so happy for the show," she said. "The show completely deserves it. The show is 10 times more amazing than my nomination." She plans to spend the day doing schoolwork and filming a new Godzilla movie, but she'll squeeze in a well-deserved "celebratory drink" at Starbucks on the way. Season Two of Stranger Things premieres on Netflix Oct. 27, and viewers can stream Season One right now.