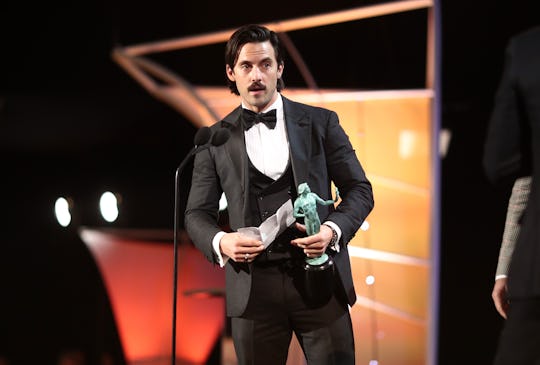 Christopher Polk/Getty Images Entertainment/Getty Images
Here's What Jack's Death Will Mean For Milo Ventimiglia's Future On 'This Is Us'
It's the moment we've all been waiting for and dreading all at the same time. The cause of Jack's death was revealed on This Is Us (at least regarding how the fire started) and it was just as heartbreaking as anyone could've imagined. But now that the mystery has been solved (for the most part), some fans may start to worry about what it means for his future on the show and the actor who plays him. So is Milo Ventimiglia leaving This Is Us? While I completely understand your concern, I can assure you that this beloved actor will still have a very involved presence on the show. And I don't just say that because it's what I want — it's what Ventimiglia himself has already revealed.
Back during Season 1, the actor opened up to Entertainment Tonight about his ongoing involvement in the show and stated that he'd been assured very early on that he shouldn't take Jack's death as an indicator of his departure. "Going into this show I knew that my character was always going to be past and I was OK with it," Ventimiglia said. "Dan Fogelman, our creator, he was like, 'Milo, you're not going anywhere.' I'm like, OK, great!'" Sounds like a pretty solid assurance, don't you think? But it doesn't end there.
Mandy Moore, who plays his wife Rebecca on the series, told People back in September 2017 that her costar is an essential part of the team and she has no doubt that he'll remain a central figure for both the cast and the series as a whole. "Milo is No. 1 on the call sheet — he isn't going anywhere," Moore said. "He is our leader. We call him our actor department head. If you want to know what's going on in the show or have a question about something, Milo, without fail, has the answer." So fear not, my friends. The This Is Us cast doesn't want Jack to leave anymore than we do, so odds are he'll be staying put even after we know exactly how and why Jack died.
We may not have seen Jack actually die on screen, but we now know when it's coming. A special This Is Us episode will be airing after the Super Bowl on Sunday, Feb. 4, which will show the tragic events that take place as the Pearson household goes up in flames. And to think this is all because of a faulty slow-cooker.
Ever since Jack's pending death was revealed way back in Season 1, fans have been eagerly trying to figure out what (or who) would be to blame for his demise. Some thought their faulty washing machine would come into play, while others were sure it would be due to some sort of fuse situation. But it was due to the faulty switch on a slow-cooker full of chili, which Jack failed to properly turn off. This resulted in the nearby dish cloth catching fire. And well, the rest as they say is history. Romper has reached out to Crock-Pot for comment regarding Tuesday's episode and the appliance's involvement, but have yet to hear back.
The most soul-crushing part of the whole thing though was watching the flashbacks of all the great memories the family shared together inside the house coincide with cutaways of the place getting burned to the ground. And the promo for the next episode promises to answer all of our lingering questions. Jack will undoubtedly risk his life in the attempt to make sure everyone else is alright. Is that how his death happens? And if so, who is it he's saving at the time?
My guess is that it'll be Kate's dog that he goes back in for, which is why she was hesitant to have a dog as an adult. It would make the most sense (and explain why she's told Toby that she feels responsible for her dad's death). Regardless, it's bound to be heartbreaking and I'm honestly not ready for it. If I don't watch it, does that mean it won't happen? Also, I'm never using a slow-cooker ever again.
Check out Romper's new video series, Romper's Doula Diaries:
Watch full episodes of Romper's Doula Diaries on Facebook Watch.