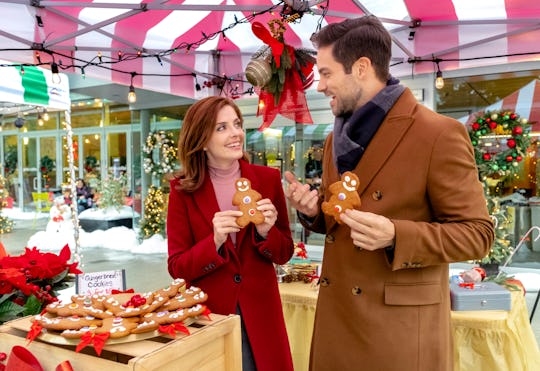 Bettina Strauss/Crown Media
Hallmark's 'Mingle All The Way' Is A Modern Holiday Romance
Hallmark Channel's holiday movies are a great way to get into the spirit of the season, and while many of their stories seem too magical to actually happen, others feel like they could be inspired by real events. Their newest offering, Mingle All the Way, follows two single professionals who find connection through a social media app. It's a plausible premise, so viewers are wondering, is Mingle All The Way based on a true story?
Sure, people meet over social media all the time, but the story of Mingle All the Way is completely fictional and was written by screenwriter Samantha Herman. The movie tells the story of Molly Hoffman (Jen Lilley), an app developer who has created a social media app that connects busy singles with "strictly platonic" partners to accompany them at holiday gatherings.
To impress her investors, Molly uses the app for herself and is connected with Jeff Scanlon (Brant Daugherty), an advertising executive who needs a date to impress his boss. The two meet, and while they don't have much in common, for the sake of their careers they decide to help each other through the holidays. But as any good holiday romance goes, the two begin developing feelings for each other, and have to figure out how to manage their ruse.
The premise will make for a terrific holiday watch, which was lead actress Jen Lilley's goal when she came on board as executive producer of Mingle All the Way. In an interview with Entertainment Tonight, Lilley revealed that when Herman pitched her the idea for the movie, she thought it would make the perfect Hallmark holiday movie. "I was like, 'Holy mackerel, this has Hallmark written all over it,'" she said. "One thing I loved about the script is that it's a little outside the normal formula, and that's OK. It's still got that Meg Ryan, Tom Hanks charm that I look for in all rom-coms." After meeting with Herman, Lilley brought the script to Hallmark producers, and from there they worked on the final version and casting.
While the premise of the movie may seem typical for Hallmark, Lilley told ET that Mingle All the Way is actually very modern and unpredictable. "I thought that was a pretty modern spin on a rom-com," said Lilley. "I think it's something that every generation that's currently alive right now can relate to because everyone is using dating apps; from your little sister, to us, to your nana." The film is Lilley's third project with the network, and in her interview, she explained the simple reason she thinks Hallmark movies do so well around the holidays.
"It's such a form of escape, no matter what political side you're on, you know when you turn on Hallmark Channel it's just going to be feel good and so many of us need that," she told the outlet. "There's just so much tension going on politically, emotionally, racially, it's so nice to sit down and be able to turn on a movie that's going to entertain you, but is also not that unpredictable. It's like a big bowl of macaroni and cheese. It's delicious and warm and comforting and makes you feel good."
There's no doubt that Hallmark movies make you feel good, which is why they're so much fun to watch around the holidays. And with Mingle All the Way's modern twist and relatable romance, it may just be the perfect holiday watch for your weekend.
Mingle All the Way premieres on Saturday, Dec. 1 at 8:00 p.m. ET on the Hallmark Channel.
This first-time mom wants to have a home birth, but is she ready? Watch how a doula supports a military mom who's determined to have a home birth in Episode One of Romper's Doula Diaries, Season Two, below. Visit Bustle Digital Group's YouTube page for the next three episodes, launching every Monday starting November 26.