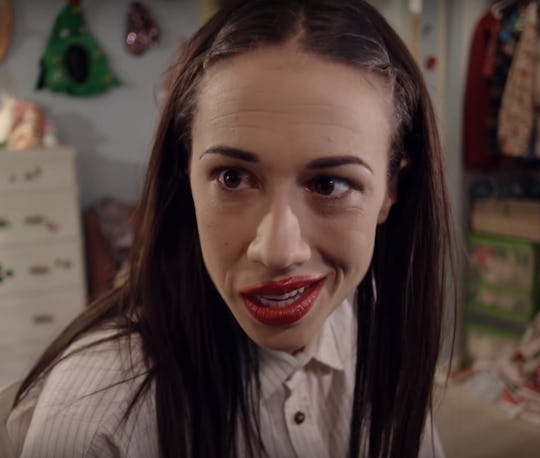 Netflix
Is Miranda Sings Real? The YouTube Personality Is Getting Her Own Netflix Series
After eight years on YouTube, comedian and personality Miranda Sings is finally about to get her own Netflix Original show, Haters Back Off, based entirely on the character that has warranted more than 7 million subscribers and hundreds of thousands of hits per video. But as famous as she has become, people still tend to ask: is Miranda Sings real? Most longtime super fans know the history of Miranda and the creator behind the smeared lipstick, Colleen Ballinger, but with the way Miranda never breaks character and always seems on top of her game, the more casual fans and even strangers to the YouTube sensation are almost expected to wonder if Miranda Sings is real or not.
Ballinger created her while studying theater in college and uploaded the first Miranda videos on YouTube to make her friends laugh. What she didn't expect was the eventual outpouring of fans who would come to look forward to Miranda videos and start their own impersonations of the character who can be too much at times. So no, Miranda isn't real, but with the kind of following Ballinger's character has gained, you would think she was a real person.
It's also not every day that a YouTube personality who isn't even real is given her own Netflix show, but you can probably just chalk that up to Ballinger being so dedicated to playing the part that people are obsessed with enough to warrant Miranda Sings getting her own show.
Ballinger has performed one-woman shows as Miranda since 2009, appearing on-stage in cities like New York, LA, Chicago, London, and Toronto. She went on to release music as Miranda in a Christmas album titled Christmas With Miranda Sings, and even guest-starred as Miranda on Nickelodon's Victorious. Miranda Sings may not be real, but she's half of Ballinger, who has made a real name as the character, so she might as well be real.
But when the globs of lipstick are wiped off and the hair is brushed out, Ballinger is all about trying to embrace her actual singing talents and abilities, away from the character she's managed to make so famous. While she is going to star in Haters Back Off on Netflix, Ballinger maintains a YouTube channel and social media presence that is nearly Miranda free in order to have some independence and assert her own personality, away from the character that some people still think is real.
Even though Miranda Sings isn't real, that doesn't mean that Haters Back Off isn't going to be the next Netflix comedy to binge over the span of literally one night. Because if those 7 million-plus YouTube subscribers are any indication, no one really cares if she's just a made up character.