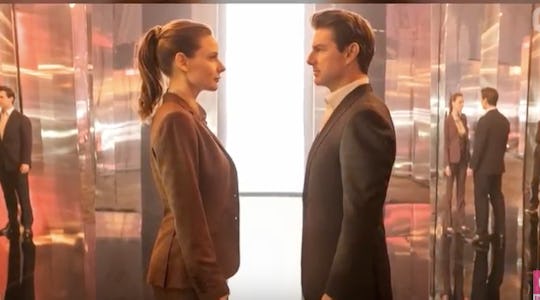 Paramount Pictures
Is The New 'Mission: Impossible' OK For Kids Under 10? Here's What Parents Need To Know
Mission: Impossible – Fallout, which hits theaters this weekend, is said to boast awesome action sequences, a thrilling spy plot... and perhaps a bit of problem for parents who have kids who like to live on the edge of their (cinema) seat. The movie is already getting great reviews, and Tom Cruise is supposedly fantastic in this sixth follow-up to the original. The only drawback if you planned on seeing this with your kids? It's rated PG-13. So assuming you want to see a movie with your family, and not split up at a cineplex, you might be wondering if Mission: Impossible - Fallout is appropriate for kids under 10? Before you make movie plans this weekend, here's what parents need to know.
A PG-13 rating means the movie is not appropriate for kids who are not yet teens, according to the Motion Picture Association of America. As Rotten Tomatoes noted, this film got its rating for "violence and intense sequences of action, and for brief strong language." As for specifics, Common Sense Media — a nonprofit website that helps parents navigate the decision of which pic to pick — included one adult review in its report that noted kids 10 and over will be fine.
But, interestingly enough, older kids who've already seen the movie have reportedly voiced concerns that the action sequences might be a bit too intense, as Common Sense Media reported, with one noting that "there's too much swearing and violence for younger kids" and urged parents to consider taking kids who are over 12.
Overall, Common Sense Media's recommendation is that — with content including shootings, knife fights, deaths, and strong language — parents with kids younger than 13 are probably better off waiting until they're older to see it.
I myself enjoy action movies, I tend not to worry about my bigger kids joining me to see one. But after watching a trailer for the new Mission: Impossible, there were some moments that made me pause for thought. There were car crashes, serious fist fights that were so bad they broke walls, truck and motorcycle chases with people getting hurt, knives, and numerous automatic weapons being fired. That doesn't mean it didn't look entertaining and exciting to me; it did! But it does mean those are the types of things you'll need to consider before bringing your little ones with you to the theater to see this movie.
Looking at the further reviews for clues as to what's the appropriate age to see the newest Mission: Impossible, I got the feeling that a kid who is at the age to handle a thriller would really, truly enjoy this one. As reviewer Ann Hornaday wrote for The Washington Post, "What makes 'Mission: Impossible' beloved — and what has allowed it to supplant the James Bond brand as a destination for action-with-a-little-fun — is its playfulness."
Director Christopher McQuarrie led Cruise through the last Mission: Impossible and the cast for the latest installment in the franchise includes incredible back-up for Cruise from character actors, including Henry Cavill and Ving Rhames, according to IMBd. Another fun aspect of this series is that Cruise apparently does all his own stunts, according to CinemaBlend, so there are incredible close-up shots of his character hanging from helicopters and racing on motorcycles. (This may, incorrectly, also lead younger audiences to assume that everything they are seeing is perfectly safe, since an actual person did it. The behind-the-scenes clips on YouTube, however, show teams of dozens of filmmakers and safety experts who make these sequences happen, FYI.)
Additionally, the film includes fabulous scenery, from snow-capped mountains to the iconic streets of Paris. The film also scores high on gender representation and diversity, according to Common Sense Media. Characters include Angela Bassett as a tough government official, for instance.
At the end of the day, movie choices really depend on the individual maturity of each person, and you know your own kid best. Even if you think your fam is ready for such an action-packed night at the theater, make sure you discuss with everyone the fact that movies like this are, after all, make-believe, and the fun is in going on a wild ride with the character. And here, I have no doubt that Tom Cruise's Ethan Hunt spy hero will bring it — for a viewer at the right stage.