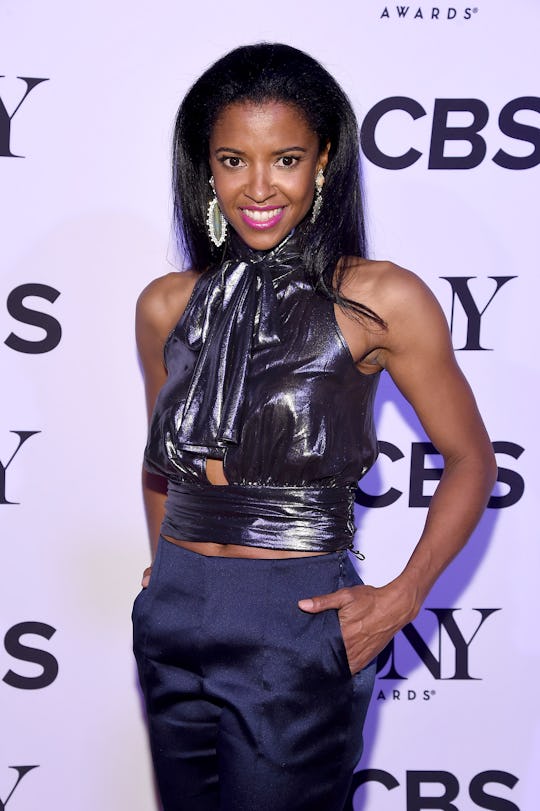 Gary Gershoff/Getty Images Entertainment/Getty Images
Misty Holloway Is A Legend In 'The Get Down'
On The Get Down, Misty Holloway was Mylene's Cruz's idol. From the very first episode of the series, Misty had been an important – if unseen – figure in the mythology of the series. She was everything Mylene wanted to be: a glamorous, successful disco star with a beautiful voice. Mylene even signed with Marrakech because it was Misty's label, and the pilot revolved around tracking down a rare recording of Misty's hit song "Far, Far Away" as remixed by DJ Carlo Pakoussa. The show's mix of fact and fiction can make it hard to distinguish one from the other, and Misty could easily fit in alongside real disco stars like Donna Summer or Gloria Gaynor. But is Misty Holloway a real person?
Despite fitting seamlessly into the decade, Misty is not a real person. She finally made an appearance in person in The Get Down Part II, portrayed by the incomparable Renée Elise Goldsberry, and she did so in true disco style. After emerging from a carriage swathed in fur, Misty took to the stage at the club Ruby Con and performed a cutthroat little number called "Backstabbers" aimed at her ex Roy Asheton, the head of Marrakech, and poor Mylene, who was being groomed as Misty's replacement. The quasi-meeting between idol and fan didn't go very well, but Misty definitely made an impact during her brief appearance.
In a statement to Bustle, series creator Baz Luhrman sang Goldsberry's praises when discussing her portrayal of Misty. "Renée is a Tony winner from Hamilton and she is a true triple threat," he said. "She inhabits the role of disco goddess Misty Holloway with star quality, channeling Diana Ross and other divas of the era. It was a pleasure welcoming her to the world of The Get Down, and I know her many fans will love seeing her in the show."
Goldsberry's style, charisma, and pipes definitely put her on the level with any actual disco queens from the era. She was able to take a larger-than-life disco diva and make her into a real person – one who was a good deal pettier and angrier than anyone might have expected. "I've played a wide range of diverse characters and they are all powerful women," Goldsberry said in an interview with Bustle. "They most recent... are all nobly fighting and sacrificing for someone they love. Misty Holloway, on the other hand, is only fighting for herself! And she's not pulling punches!"
Misty Holloway might not be a real person, but Goldsberry certainly made her feel like one.