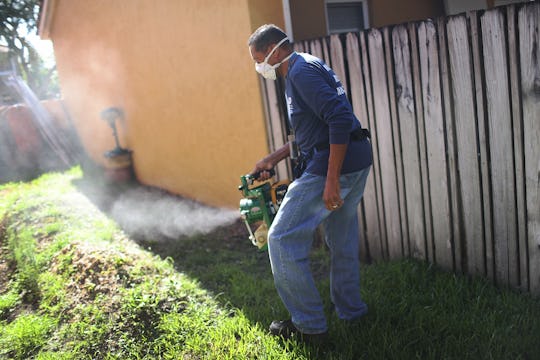 Joe Raedle/Getty Images News/Getty Images
Is Mosquito Repellent Common In Latin & South America? Zika Prevention Is Not Easy
As peak mosquito season approaches, travelers to and natives of regions where the Aedes egypti mosquito can be found are still under health advisories from the World Health Organization due to the threat of the Zika virus. Additional mosquito-borne illness such as dengue and chikungunya fevers also pose threats to tourists and locals in these regions. If you're planning to travel anywhere close to the equatorial Americas, bug spray is a must. Is mosquito repellent common in Latin and South America? As it turns out, even in these Zika-affected regions, getting your hands on mosquito repellent can prove to be difficult.
A number of online travel forums recommend packing your own personal health supplies such as sunscreen and bug spray before you travel to your destination in these regions. According to the Centers for Disease Control and Prevention, travelers should look for EPA-registered mosquito repellents that contain active ingredients such as DEET or picaridin, recommended as an alternative to DEET by the the WHO. But what if you've forgotten to pack your mosquito repellent or if you run out while you're traveling abroad in these regions? These same online travel forums offer some tips depending on where you're traveling.
Bring Your Own Bug Spray
While you can usually find some kind of bug repellent in most larger grocery stores or pharmacies, in some Latin and South American countries, it can be particularly difficult to find mosquito repellents with DEET, considered to be your best protection against mosquitos by many experts. If you do find repellents with DEET, they are often at lower concentrations. But don't shy away from buying them if you find it, even with low concentrations: The percentage refers to how often you'll need to reapply the repellent as opposed to its strength.
If you're headed to the Olympics in Rio de Janeiro, Brazil, you'll either have a really easy or really hard time finding mosquito repellent: Sales of mosquito repellent in Brazil have skyrocketed and Off! has become the official insect repellent partner for the 2016 Olympic Games. Your best bet — no matter where you're going in Zika-affected regions — is to stock up with some of the best mosquito repellents available and bring extra, just in case.
Smoke Out Those Mosquitos
Much like the citronella candles you might have on your patio table, you can find mosquito repelling coils known as "espirales" at most grocery stories in many Latin and South American countries. You should never sleep with an espirale burning overnight in your room, or let the smoke accumulate in a confined space, as inhaling the smoke from mosquito coils can pose health risks.
When In Doubt, Ask The Locals
If you're traveling to Panama, look for the Pickled Parrot Bar and Restaurant in Bocas del Toro. Commenters on Trip Advisor note that they sell their own bug repellent known as "bug juice" — apparently, it's a homemade blend that travelers swear by as an effective way to fend off mosquitos. Headed to Guatemala? Stop by Old Town Outfitters in Antigua to stock up on powerful brands of mosquito repellent you can find in the United States, along with a ton of backpacking and hiking supplies, too. Another Trip Advisor forum alleges that in Belize, many beach bars have cans of OFF! or other bug sprays on hand that bar hoppers can borrow to help with biting insects while enjoying your rum and Coke.
If all else fails, you can try asking your hotel concierge or front desk if they either have any bug spray on hand or know where you can purchase some.
How You Can Help Zika-Affected Regions
The issue of mosquito repellent availability exists not just for travelers, but for natives of Latin and South America, too. Even if you aren't planning to travel to Latin or South America, you can still help those who are most vulnerable to contracting the Zika virus, such as pregnant women. Plenty of companies are donating to help fight the Zika virus, too — including a $15 million donation to fight Zika from SC Johnson — while others are coordinating efforts for mass distribution of mosquito repellent and mosquito nets to affected areas.
There are two simple ways you can help: Both UNICEF and MAP International have put out appeals for donations to help them fight Zika. Both organizations are distributing repellent, nets, antibiotics, and other urgently needed items in these regions critically affected by Zika. You can donate to UNICEF's Zika appeal here or to MAP International's Zika campaign here.