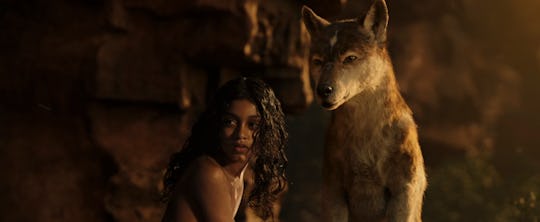 Netflix
'Mowgli: Legend Of The Jungle' Might Be Too Dark For Young Viewers
When Mowgli: Legend of the Jungle lands on Netflix on Dec. 7, your kids might be drawn to its hyper-realistic CGI animals and the now-familiar story of a boy raised amongst them. But before you hit play on this movie, you might be wondering if your little ones are too little to be watching it. Is Mowgli: Legends of the Jungle appropriate for kids under 10?
According to Metacritic, the film is rated PG-13 for "intense sequences of action violence including bloody images, and some thematic elements." That means the movie isn't considered appropriate for kids under age 13, but parents can use their own judgement to determine whether or not they want to allow their younger children to see it too. Reviews have indicated that this is a darker version of Rudyard Kipling's The Jungle Book, so maybe stick to the 1967 Disney version if you want all the cute animals without the CGI violence.
Vulture described Netflix's Mowgli as more "nightmarish" than past adaptations, comparing it to a time when "children's literature was the domain of the deepest fears and the most elemental, unsettling stories." That may make it a unique take on an old story, but not necessarily the best choice for kids under 10.
There is a certain darkness intrinsic to The Jungle Book. It's about a young boy raised by wolves, whose mentor is a panther and whose enemy is a very threatening tiger. While the danger of those animals can seem lessened in 2D animation, any attempt at realism would naturally make the story a lot more unsettling. Mowgli is alone in a very fraught situation from a very young age, which lends the story the more ominous edge that seems to have been enhanced in Mowgli: Legends of the Jungle.
Den of Geek stated outright that the movie might not be suitable for younger viewers, noting that it really earned its PG-13 rating. According to their review, "violence and death are a much more palpable part of the world that [director Andy] Serkis presents." The film has been referred to as more gritty and realistic by several publications, including Den of Geek. The Wrap also claimed Mowgli was a little too emotionally heavy and bloody to really be considered family friendly. And The Washington Post said that while the film was beautiful to look at, some moments could be quite gory. On top of the visual violence, the subject matter of Mowgli is more complicated and adult, too. It raises some ethical questions that may be a bit much for super young kids.
From the sounds of it, the audience for this film seems to skew slightly older. But you know your kids better than anyone, and if you feel they can handle the mature themes and apparent bloodiness of the film, then that's your call to make. Maybe have a solo viewing first to check it out; no one wants to spend their formative years having nightmares about tigers who sound like Benedict Cumberbatch.
This first-time mom wants to have a home birth, but is she ready? Watch how a doula supports a military mom who's determined to have a home birth in Episode One of Romper's Doula Diaries, Season Two, below. Visit Bustle Digital Group's YouTube page for the next three episodes, launching Mondays in December.