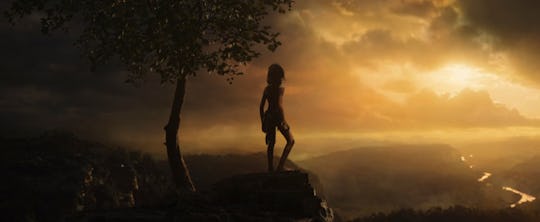 Netflix
Netflix's 'Mowgli: Legend Of The Jungle' May Be Scarier Than You Think
Mowgli: Legend of the Jungle is Netflix's latest blockbuster release, but if you're expecting it to be as cute and cuddly as the Disney versions of The Jungle Book, think again. The new film tells Mowgli's tale in a much darker way, and it may even be a little terrifying for younger tots. If you were hoping to watch it with your little ones, you're probably wondering, is Mowgli: Legend of the Jungle scary?
Well, for starters, the movie is rated PG-13, which means it may contain material unsuitable for children under the age of 13. According to a report by Washington Post, Mowgli: Legend of the Jungle features live-action CGI scenes that may be intense for little children, including scenes in which Mowgli is battling life-threatening situations and where animals are seen dead, bloody, or injured. The film also has a few jump scares which may be too scary for younger audiences.
So why is this version of The Jungle Book so scary? Sure, you may be used to the song-and-dance versions you've seen before, but Mowgli: Legend of the Jungle was made to reflect the mature tone of Rudyard Kipling's original work. In an interview with Deadline, the film's director, Andy Serkis explained that because Mowgli goes through life and death situations in the book, there are scenes in his movie that reflect the intensity and consequence of those experiences.
"When I came on the project, the script commissioned by Warner Bros was very close to the tone of the Kipling book," said Serkis. "There is real jeopardy and consequence here, with an emotional resonance meant to be for a slightly older audience than most of the Jungle Book films we've seen. The human being and the animals are emotionally truthful, and not in any way were we tipping the wink to the audience that this is a fairy tale."
Serkis also revealed that the film was never intended for young audiences, so the filmmakers were able to explore the story's darker elements. "It's really not meant for young kids, though I think it's possible that 10 or above can watch it," Serkis told Deadline. "It was always meant to be PG-13, and this allows us to go deeper, with darker themes, to be scary and frightening in moments. The violence between animals is not gratuitous, but it's definitely there."
While you may be comfortable with Disney's cookie-cutter versions of The Jungle Book, you should know that they were not tonally similar to Kipling's 1894 novel. The book featured politically and racially charged undertones, along with elements of death and destruction. When talking to NDTV, Serkis noted that at its core, Kipling's story was always gritty and complicated. "The story is complex, dark — it is a very ideologically complex book," said Serkis. "We all knew the film we were making and we were not going to shift away from that." However, he added that despite the violence seen in the film, there is "nothing in it that is gratuitously violent" or "not meant to be there."
In the trailer for Mowgli: Legend of the Jungle you can get a sense of how intense the movie is. Of course, figuring out if the movie is scary is not that easy, because what some kids might find frightening, may seem harmless to others. So, if you're planning on watching the movie with your family, it may be a good idea to preview it ahead of time.
Mowgli: Legend of the Jungle premieres on Netflix on Friday, Dec. 7.
This first-time mom wants to have a home birth, but is she ready? Watch how a doula supports a military mom who's determined to have a home birth in Episode One of Romper's Doula Diaries, Season Two, below. Visit Bustle Digital Group's YouTube page for the next three episodes, launching Mondays in December.