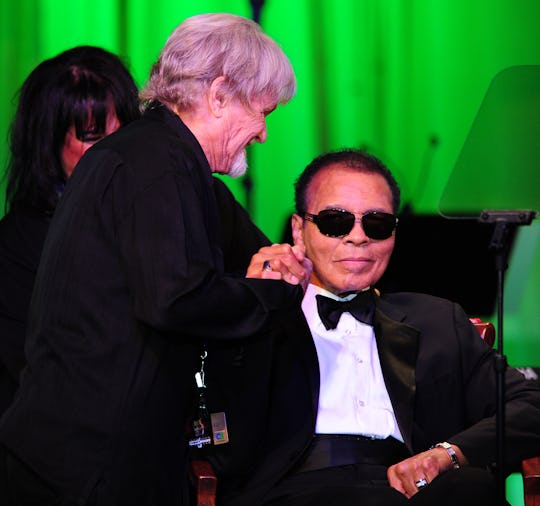 ROBYN BECK/AFP/Getty Images
Is Muhammad Ali Sick? His Condition Has Reportedly Worsened
Muhammad Ali began trending across social media platforms on Friday morning as news of his health spread across the internet like wildfire. For those who are unfamiliar with the boxing legend's ongoing health struggles, this unpleasant news about his health came as a shock. So people had to ask, is Muhammad Ali sick?
Unfortunately, Ali is not only sick but also in not-so-great condition. According to the New York Post, Ali has been placed on life support at an Arizona hospital, where his loved ones have reportedly rushed to his side. But what is Ali sick with?
The 74-year-old former boxer was hospitalized for a respiratory issue, which according to the Associated Press, have been complicated to Ali's Parkinson's Disease. On Thursday, a spokesman for Ali told the AP that Ali was "in fair condition" and was hospitalized for a respiratory issue, but the spokesman had no comment as of Friday.
Muhammad Ali has suffered from Parkinson's Disease since being diagnosed with it in 1984 — which could have been caused by the multiple hits Ali took to the head during his career as a boxer. According to the Parkinson's Disease Foundation, Parkinson's is long term disorder whose symptoms continue and get worse over time.
A person with Parkinson's often experiences tremors, or shaking of the arms, hands, and face, slow and stiff movements, and lack of balance or posture. There is no known cure for Parkinson's.
But Ali has been in and out of hospitals for quite some time for the past few years, which has lead some to question the state of Ali's health. More recently, in January 2015, Ali was hospitalized with a urinary tract infection after being treated for what was originally thought to be pneumonia. In October 2014, Ali was too sick to attend a screening of a movie about his life called I Am Ali which prompted rumors about his health to spread. Muhammad Ali's daughter, Layla Ali, said of those rumors,"He's good. Rumors about his health every year come out."
But now, due to his representative making a comment, it appears that Ali's health condition might be a little more serious than just a rumor. According to Reuters, a source close to Ali has said that the boxing legend is reportedly in "grave condition."
"It's extraordinarily grave. It's a matter of hours," the source said of Ali's condition.
By the trending of Muhammad Ali across social media, fans of the champion boxer along with everyone else were aware of Ali's health and condition.