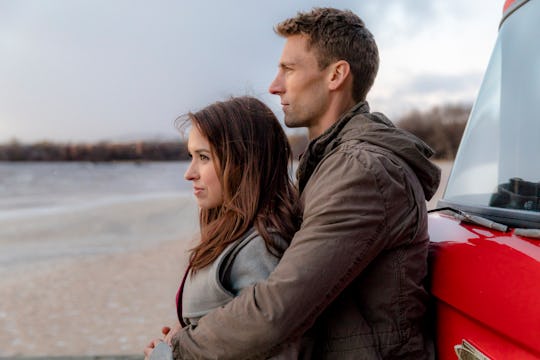 Hallmark Channel
This Lifetime Movie Is Guaranteed To Get You In The Mood For Valentine's Day
Just because the holiday season is over doesn't mean that Hallmark is done premiering feel good, family friendly love stories. The newest one is perfect for Valentine's Day, but it's also pretty mysterious. So, is My Secret Valentine based on a true story? It's not totally implausible.
The movie, according to the Hallmark Channel, is about Chloe, played by Lacey Chabert, whose family owns a winery. Her father is planning on selling it, which makes her so upset that she goes off to "stress snack" with a guy named Seth, played by Andrew Walker. He turns out to be the sales representative buying the place, so they obviously don't get along very well. Meanwhile, there's someone renting out her family's cabin, that she never sees. But, he does keep leaving chalkboard notes for her. They end up exchanging notes via chalkboard, which makes her start to fall for him.
Guess who the mysterious tenant is? It's such a cute story, and very similar to You've Got Mail, but with a winery instead of a bookstore. Actually, it's exactly like that, which is probably why it might feel like you've heard or seen this story somewhere else. It's not a true story, but it's a very good fictional one.
Chabert is no stranger to Hallmark movies, as she's done a bunch of them since Party of Five and Mean Girls. She's obsessed with them herself. She told Entertainment Weekly, "They're like comfort food. You know you're going to sit down, be uplifted, feel some emotions, and be left in a good mood." This one is no different, though she's usually in the Christmas ones.
But she recently said in a Hallmark cast interview that this particular project is the perfect Valentine's Day movie. "It's so truly romantic," she explained. "There's a mystery Valentine all throughout the story and theres also the romance that evolves between seth and chloe. At the beginning of the story they really don't care for each they're such opposites."
She added:
They also have different motivations and things that bring them joy is not exactly the same. The truth is they both learn not to judge a book by its cover and not make assumptions. They both have qualities that are charming.
Walker agreed, in his own cast interview on Hallmark, that this was a great Valentine's flick, precisely because it's not a Valentine's Day movie. Or not just one, at least. He stated:
I think what's great about this movie is that there's so much build up. We're constantly having fun, and the relationship is building and there's respect, the affection, the love is growing and apparent. And the chemistry is so strong. You don't need Valentine's Day to specifically celebrate your relationship and the love you have for the person you're with.
Walker added, "That's what great about this movie is that there's so much there. It's not just about Valentine's Day."
Even though the story isn't based on a real one, or even a real winery, the chemistry between the two actors is definitely legitimate. Walker said in an interview with the International Business Times, "No offense to every other actress I've ever worked with because I love you all, I love you all, but Lacey has to be the most genuine, pure-hearted person I've ever met in my life."
The actor added,"Like, she is so incredible, she's so giving, she's so loving. She's such an easy person to work with, she's a collaborator. She was perfect for this and I've always wanted to work with her, too, so I feel very fortunate that I had this opportunity."
Talk about a glowing review right? That chemistry and mutual respect must be why the love story in My Secret Valentine feels so real.
Check out Romper's new video series, Romper's Doula Diaries:
Watch full episodes of Romper's Doula Diaries on Facebook Watch.