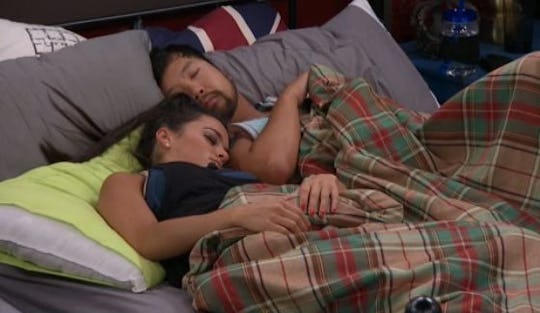 CBS
Is Natalie Using James On 'Big Brother'? Their Showmance Is Mutually Beneficial
It seems the tides are turning against Natalie on Big Brother. Once a fan favorite, it now seems most fans aren't favoriting Natalie anymore. Maybe it has something to do with the fact that she's a woman who's not afraid to speak up for herself and actually play the game of Big Brother? Just an idea. Supposedly it's because she's using James and doesn't actually have real feelings for him at all. This idea started really circulating after Paulie made the same accusations after he was evicted from the house, but is Natalie really using James on Big Brother? That seems doubtful.
In an interview with Us Weekly after his eviction, Paulie stated, "After Natalie has said multiple times that she will only be friends with James outside of the house, I think it is pretty obvious. I think their relationship in the game is purely strategy."
However, Paulie then continued to say, "They do have genuine feelings, but as far as a relationship she has stated multiple times that she has no interest in dating him and will only be friends."
So if Natalie does have genuine feelings for James how exactly is she using him? It's totally plausible that their relationship is a strategy, but it seems that it's mutually beneficial to both of them. Natalie has been a vote for James when he needed it and has supported almost every single one of his suggestions and ideas. Similarly, James looks out for Natalie and does everything in his power to make sure she remains safe. Whether or not they're going to date outside of the house has nothing to do with it. They're looking out for each other and naturally that's something Paulie can't really understand because he didn't do the same for Zakiyah, but just because his showmance didn't work out for him doesn't mean Natalie and James aren't in a real one.
It seems strange that Natalie is coming under all this heat for "using" James and yet no one's wondering if James is using Natalie. They're both benefiting from this showmance, and if you can't see that you haven't been paying attention. Accusing Natalie of just playing on James' feelings seems to just be another way to attack her and that needs to stop.