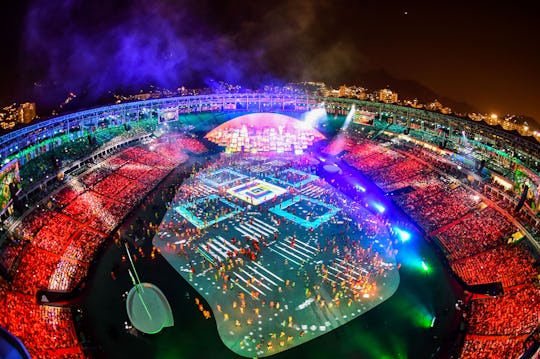 FRANCOIS-XAVIER MARIT/AFP/Getty Images
Is NBC Airing The Olympics Closing Ceremony Live? Sort Of
On Sunday, the 2016 Olympics finally come to and end and the torch will be passed to Tokyo, the host of the 2020 games. It all starts at 7:30 p.m. ET as NBC airs the Olympic closing ceremony live. Or, sort of live. The whole spectacle starts at 6 p.m. Central time from Maracana Stadium, where the opening ceremony was. NBC's coverage is just two hours long, and will probably be edited for an American viewing audience and have commercial breaks. So there won't be everything, but there will still be a lot going on. The NBC Sports app and at NBCOlympics.com will have a live stream, but after a half hour, viewers will have to enter a cable authentication.
The show will be hosted by Rosa Magalhaes, a Brazilian professor of scenography and she's supposed to be one of the greatest carnival designers in Brazil's history (how does one get that job?). Magalhaes was a creative director for the opening ceremony, so two shows should complement each other well. Like anything Olympics, the show is going to be big and global. The flagbearers for each country will likely be different from the opening ones — the teams do two rounds of voting to nominate and select a flag bearer. Simone Biles will carry the flag for the U.S.
The performances will be interesting, too, though many are being kept under wraps so viewers will be pleasantly surprised. The theme, according to Vox, is to celebrate Brazilian music and culture. Much like the opening ceremony, there will likely be a strong emphasis on climate change and sustainability. Of all the secret festivities, some things have been confirmed to the media. Norwegian electronic musician Kygo, who grew up partly in Brazil, said that he will be participating in the festivities. According to Vox, Kygo said, "The opportunity to be a part of the closing ceremony of the Olympic Games in Rio is a huge milestone in my career and it will be the biggest performance of my life. I've been a sports fan forever."
Another big appearance will be made by Pelé, the greatest soccer player ever (don't fight anyone on this). He was supposed to show up for the opening ceremony, but because of health issues had to miss the flight. He recently tweeted, "I am continuing my physiotherapy and focused on joining you for the closing festivities on August 21. I love you!" At the end, the Olympic flag till be given to Yuriko Koike, the mayor of Tokyo, to ceremonially signal the end of the games and the beginning of looking ahead to 2020.
There will definitely be a lot to look forward to on Sunday night, even if NBC will be editing and cutting away now and again.