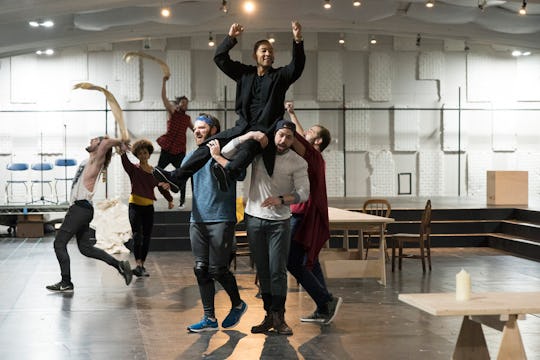 Virginia Sherwood/NBC
NBC's 'Jesus Christ Superstar Live!' Could Be Full Of Unexpected Surprises
The new trend of putting on live musicals on national television is definitely one I can get behind. The next one will be on NBC, when the network debuts Jesus Christ Superstar Live! on April 1, which appropriate just so happens to be Easter Sunday. But I always wonder about how these productions can put on such an elaborate performance on live television, since the stakes are so high. So is NBC's Jesus Christ Superstar Live! really live or are some things recorded ahead of time?
Previously, NBC has put on the Sound of Music Live, Peter Pan Live, The Wiz Live, and Hairspray Live, all of which were actually live and pretty darn flawless. Jesus Christ Superstar Live! will be no different, airing from the Marcy Armory in Williamsburg, Brooklyn.
I mean, NBC is the king of live television, as they run Saturday Night Live every single week. Sure, it's not quite as huge of an event, but it's a pretty big deal. As with any "live" program, there is a small delay so they can bleep our curses or a "wardrobe malfunction." But the delay is often up to the reflexes of the person in the control room, according to Atlas Obscura, so if baby Luna charges the stage to get to her dad, John Legend, while he plays Jesus, everyone will get to see it.
It's going to be a great show with Legend filling the blessed role of Jesus, Sara Bareilles playing Mary Magdalene, Alice Cooper tackling the role of King Herod, and Hamilton castmember, Brandon Victor Dixon portraying Judas. That's like the definition of "star-studded." And with talent like that on the stage, the chance of making a mistake on live television may be fairly low. They're all pros, after all.
Legend told Pop Sugar that the cast has been rehearsing nonstop, despite the fact that he's touring and always seems to be hanging out with his wife Chrissy Teigen on Instagram. But he's not afraid to multitask. He told the outlet:
I've had to make everything else my side project, honestly, because I've been here every day for six to eight hours, and we've been focused on it. It's been an immersion into the material, just learning all the lyrics and musical cues. And then just starting to inhabit the character and let it become a part of me. It's been fun, but it's taken over my brain. So, even when I'm at home, I'm humming the songs and rehearsing my lines in my head.
That doesn't mean he's not nervous about taking on the 1970s rock musical. "It's an iconic show. It's meant a lot to a lot of people for a long time, and you want people that are fans of it to be excited by our rendition," he said in the same interview. "Then, we want to attract new people to the show, too, that may have never seen it." Casting Legend as Jesus was a perfect choice, especially since he grew up learning about the Easter story. The musician explained:
I grew up in a Christian home with ministers all through my family, so I've been hearing about Jesus my whole life, and the chance to portray him, I couldn't turn it down. It's huge, it's iconic, it's special, and I felt like it was a challenge that I was ready to take on. There's pressure, but it's a good pressure.
Talking about making the family proud. It's an even bigger deal for Legend since he already has a slew of Grammys and one Tony for co-producing August Wilson's Jitney last year. With this performance, he could be up for an Emmy, a Golden Globe, or both, which means just taking on the role brings him one step closer to EGOT. So this live performance has meaning on all sorts of levels.
This version, with this cast, is bound to be epic. But excuse me if I can't help hoping that Luna crashes the event.
Check out Romper's new video series, Romper's Doula Diaries:
Watch full episodes of Romper's Doula Diaries on Facebook Watch.