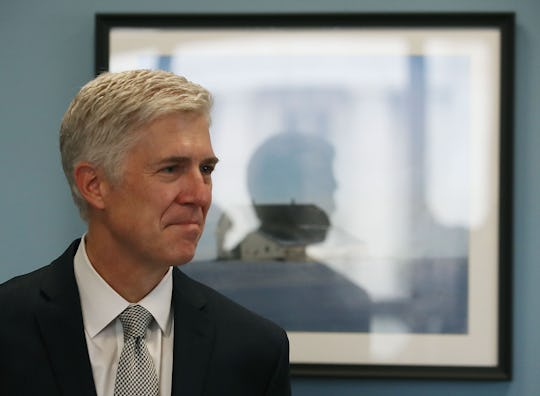 Mark Wilson/Getty Images News/Getty Images
Gorsuch Responds To Trump's Attack On Judge
President Donald Trump started yet another feud on Thursday morning, falsely claiming on Twitter that Connecticut Sen. Richard Blumenthal lied when he said that Supreme Court nominee Neil Gorsuch called Trump's recent criticism of U.S. District Judge James Robart "disheartening" and "demoralizing." Some wondered if perhaps Neil Gorsuch and James Robart are friends, since speaking out against the president who nominated him could be considered a bold move. But although they're both federal judges nominated by President George W. Bush in the early 2000s, it appears their paths have never crossed.
It looks like Trump didn't learn a key lesson from Senate Majority Leader Mitch McConnell's recent misstep: if you're trying to silence someone, don't make such a stink that you end up amplifying them instead. Blumenthal did not, in fact, lie about what Gorsuch said, and thanks to Trump's tweets, even more people have heard about it. A spokesperson for Gorsuch confirmed the comments, and former New Hampshire Sen. Kelly Ayotte, who is serving as an aid to Gorsuch during his confirmation process, released a statement on the judge's behalf clarifying that while he's ethically bound not to comment on specifics, he finds criticism of judges in general to be disheartening and demoralizing.
Blumenthal's exact words were, "I told him how abhorrent Donald Trump's invective and insults are toward the judiciary. And he said to me that he found them 'disheartening' and 'demoralizing' — his words." He didn't actually specify Trump's recent and repeated criticism of Robart, who issued a temporary restraining order suspending Trump's travel ban from seven predominantly Muslim countries. It's just that most people inferred that the conversation was inspired by Robart. Though Trump accused Blumenthal of misrepresenting Gorsuch's words, he did no such thing.
But Trump actually has a long history of insulting judges. He tweeted repeatedly about federal judge Gonzalo Curiel, who presided over a fraud case against Trump, claiming that the "Mexican judge" was biased against him (Curiel was born in Indiana). He's gone after Supreme Court Justice Ruth Bader Ginsburg, calling her "incompetent" and saying that "her mind is shot," and he's repeatedly complained about Chief Justice John Roberts ruling in favor of "Obamacare." He's even tweeted about an actual Mexican judge and a South African judge. White House Press Secretary Sean Spicer explained away Trump's recent comments about Robart, saying that "He respects the judiciary," but "It's hard for him and for a lot of people to understand how something so clear in the law can be so misinterpreted." It should be noted that interpreting the law is the very job description of a judge, a position that requires years — sometimes decades — of study and legal experience. Trump holds a bachelor's degree in economics.