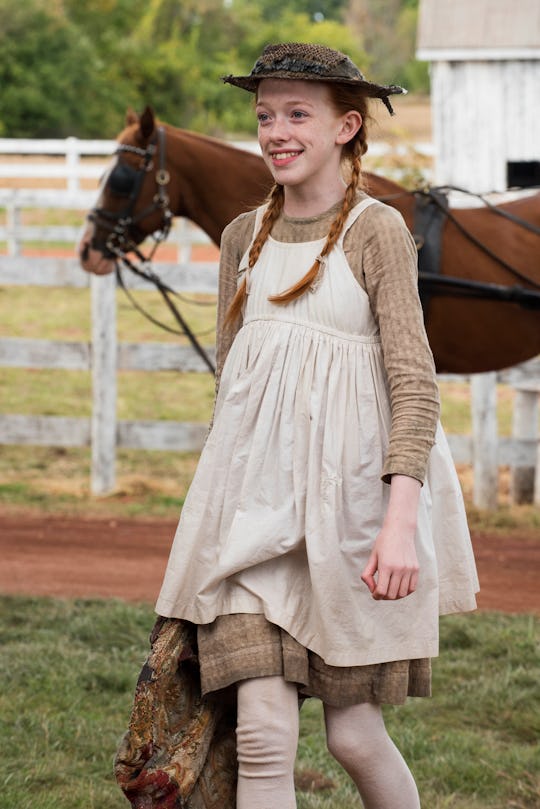 Christos Kalohoridis/Netflix
Netflix's 'Anne With An E' Will Go Into Uncharted Territory
The trailer for Netflix's upcoming series Anne might seem very familiar to some viewers. The show follows a young orphaned girl with distinct red hair and freckles as she arrives at a brand new home and faces immediate obstacles. Her new guardians seem unenthused with her and the children at school are outright cruel. The only outlet for little Anne is her wild imagination and her one true friend, Diana. The red braids might have been enough to tip off some members of the audience, but all those details are too obvious to ignore. Is Netflix's Anne with an E based on a book?
The series is based on the iconic 1908 novel Anne of Green Gables by L.M. Montgomery, which is much-loved by its many fans. It's a book that has already been adapted for screens big and small multiple times before, with the 1985 Canadian miniseries starring Megan Follows usually cited as particularly popular amongst viewers. Elizabeth Bradley, Netflix's VP of content, seemed very aware of Anne's fan following in the announcement for the series. She said, "Anne Shirley is one of Canada's greatest gifts to the world, known and loved internationally, so we're thrilled to be working with the CBC and Northwood to bring this charismatic character to both new and old fans around the world."
The newest version puts its own spin on the story of Anne Shirley's coming of age. Though it aired on Canadian television first, it will makes its Netflix debut on May 12 under the title Anne with an E.
The story begins with Anne arriving in the made-up city Avonlea on Prince Edward Island in Canada. Aging siblings Matthew and Marilla Cuthbert had set out to adopt a young boy to help with their farm, Green Gables, but a misunderstanding at the orphanage resulted in Anne showing up instead. Though they're not sure about her at first, Anne quickly wins them (and the entire town) over. Along the way she makes dear friends and knocks some deserving boys down a few pegs (seriously, don't call her carrots) while inspiring everyone with her tenacious personality.
Anne of Green Gables may have a long onscreen history, but it's totally fine to tune in to the Netflix version even if you're unfamiliar with its titular redhead. In fact, it isn't too far into the story that the plot veers off-script to brand new terrain. "It's already well away from the book," executive producer Moira Walley-Beckett recently told reporters at a Netflix press event. "By the end of the first episode we're long gone. We've charted a lot of new territory, but also keeping the beloved and iconic moments from within the story." So even if you did read the book, don't expect to already know everything that will happen. And don't let the time period fool you either. Walley-Beckett assures the the themes throughout the story are"timeless and timely," hitting on a wide range of topics such as "feminism and bullying, gender parity, equality, and prejudice."
Suffice to say, Anne with an E will be a nostalgic way for old fans to revisit something they love that still feels relevant today, and new fans will be introduced to a plucky heroine they won't soon forget.