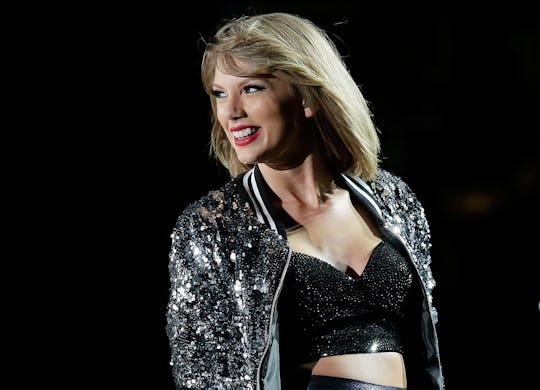 Mark Metcalfe/Getty Images Entertainment/Getty Images
Fans Are Totally Convinced Taylor Swift's "New Year's Day" Is About This Ex
Taylor Swift's sixth studio album has fans endlessly speculating about the meaning behind her 15 new songs and accompanying epilogue. Ex-boyfriends are the subject of several of her songs, if you buy into the many fan theories. For example, some believe that one song, "New Year's Day," is about Harry Styles and his past relationship with Swift. While this is all speculation, the theorists make a pretty good argument. There are alternative explanations for the song, but Haylor fans are holding onto any chance of lingering hope.
The majority of the Harry Styles "New Year's Day" fan theory is centered around the song's title. Cosmopolitan reported that the name of the song may be in reference to the end of Haylor that played out in the 2012 holiday season. Swift and Styles planned to celebrate New Year's Eve and welcome the New Year together in the British Virgin Islands, but that all reportedly went south when Swift ended up flying back stateside days early. An alleged source told The Daily Mail that the two "were on holiday and had an almighty row," which ended with them breaking up and one very sad photo of Swift sitting alone on a boat.
The song name does feel like a very direct reference to the couple's breakup, but it may be a bit of a stretch to believe that Swift is still singing about a 5-year-old breakup when so much more has happened in the meantime, especially considering how much of her album 1989 was devoted to Styles. That being said, ex-boyfriends are a common target for Swift's songs, and she has plenty of material to go after whoever she wants in what seems to be an album devoted to revenge. Haylor fans certainly seem to think it isn't off the table.
The lyrics to all of the songs on Reputation were quickly made available online, giving fans even more meat chew on. The majority of the lyrics are wistfully retrospective, looking back the day after the symbolic party, but there is a bridge that will undoubtedly send all of Team Haylor into a tizzy:
Please don't ever become a stranger / Whose laugh I could recognize anywhere / Please don't ever become a stranger / Whose laugh I could recognize anywhere
While these lyrics could be aimed at just about anyone, I'm not going to be the one to disagree with hoards of loyal Haylor fans. One thing is for sure, fans were apparently left in tears after the conclusion of Reputation when they heard it in a special listening session. No matter who it's about, it has some powerful emotions behind it.
Styles isn't the only of Swift's guys that springs to fans' minds when they think about "New Year's Day." There are those who believe that the song is actually meant to serve as an unofficial engagement announcement for Swift and her rumored boyfriend, Joe Alwyn, according to Elle. While there is no clear thought process that led fans to this conclusion, it has gained some ground on Twitter. While this is possibly little more than wishful thinking, it wouldn't be out of character for Swift to announce big news is such a roundabout way.
Fans have also formulated theories about a number of other songs on the album and who they could be about, but nothing is for sure. The Target edition of then coming album is set to be released with all kinds of special content — including "72 pages of her personal poetry and photos, artwork, hand-written lyrics, a behind-the-scenes glimpse at her 'Look What You Made Me Do' video and more."
All of these extras and the music videos that are likely to follow the album's release, fans may get a little more insight into the meanings behind these songs. And if not, art is subjective after all — so who's to say that they can't mean whatever you want them to mean? (I'm looking at you, Team Haylor).
Check out Romper's new video series, Romper's Doula Diaries:
Watch full episodes of Romper's Doula Diaries on Facebook Watch.