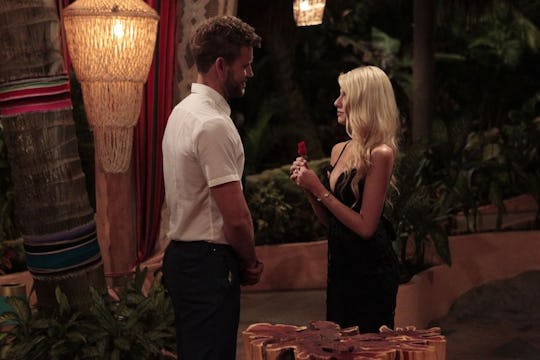 ABC/Rick Rowell
Is Nick Viall Single Now? The 'Bachelor In Paradise' Contestant Is Definitely A Flirt
When Nick Viall was almost, but not quite, given the final rose on Season 10 of The Bachelorette, I still liked him. And when he popped up again on Season 11, I couldn't help but root for the guy who would be come the two-time Bachelorette runner-up. But now he's on Bachelor in Paradise and after all that's been going down with Josh Murray (again), you might be wondering if Nick Viall is single now after Bachelor in Paradise? Obviously producers like to keep all of the Bachelor in Paradise finale details on the down low, but seeing Viall shafted once again makes you want him to be able to find love and keep it for once. You know, without a resident bad guy to get in the way of it all.
Right now, Nick Viall has been making the media rounds, talking about his new rivalry with Josh Murray that, according to him, wasn't as intense as Murray seems to let on in Bachelor in Paradise and that Viall wasn't as hurt about losing Amanda Stanton to him. Most of the women currently featured on Viall's Instagram are other stars from Bachelor in Paradise. This could be a way to deter attention from someone he's actually dating, or maybe he's just really good friends with the ladies of BiP.
If Nick Viall found love on Bachelor in Paradise, it was likely with (spoiler alert, for those who are faint of heart and don't watch previews) Jen Saviano, who shouldn't come as much of a surprise since the preview showed the two quite literally rolling around in the sand. Whether their relationship lasts is a mystery, but no doubt we'll find out as the season progresses. It would be nice to see Nick find love after all of his second place gigs.
Now that Nick has made it abundantly clear that he is not going to fight for Amanda — ending his feud with Josh Murray for good? — he can focus on finding someone who actually makes him happy. Jen seems like someone that could really work for Nick, so hopefully Paradise is kind to them. Watch over them with love, Chris Harrison.