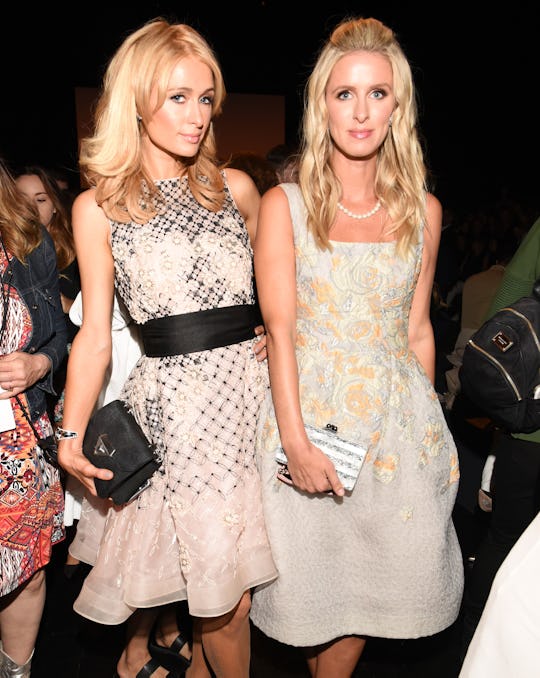 Vivien Killilea/Getty Images Entertainment/Getty Images
Is Nicky Hilton Having A Boy Or A Girl? Paris Hilton Accidentally Spilled The Beans
She's one excited aunt-to-be! According to Us Weekly, Paris Hilton openly gushed about sister Nicky Hilton's pregnancy on the red carpet of the Fashion Institute of Technology Gala in Manhattan Monday and accidentally revealed the baby's gender in the process. Is Nicky Hilton having a boy or a girl? Paris shared that Nicky is pregnant with a baby girl, and that she's already started buying clothes galore for her little niece. When asked by the mag about Nicky and husband James Rothchild's impending arrival, Paris said,
I'm so excited for the baby. She's going to be such a beautiful little girl, and I can't wait to meet her...Now that I know it's a girl, it's getting easier to buy things for her. I love all the dresses I got her. There are so many beautiful dresses and little princess outfits. So I can't wait to see her in them.
Paris' accidental gender reveal comes as a bit of a surprise — not only because the couple themselves had yet to comment on it, but because previous reports suggested that they didn't even plan to find out themselves. According to People, Paris spoke about her sister's pregnancy when Nicky first debuted her pregnancy belly on the red carpet at the amfAR Gala back in February, and said that, while the gender guessing game had already begun, nobody would be finding out for sure anytime soon:
She's so tiny right now you can't even tell [she's pregnant]. Usually you can tell with the size if it's maybe a boy or girl, but we have no idea — and they want it to be a surprise.
(I guess they changed their minds!)
The couple's first child is scheduled to arrive very soon, almost five years after Nicky and Rothschild first met, at the wedding of British heiress Petra Stunt, according to the Daily Mail. Of their meeting, Nicky told BELLA magazine,
We met the old fashioned way – at a wedding – which I thought was sweet. He just came up to me and approached me after the reception. I was living in LA at the time, and he was in London – it was very long distance. We really enjoyed each other and just made it work.
Nicky and Rothschild tied the knot themselves last summer in a very swanky wedding at Kensington Palace (no big deal!), following Rothschild's super-romantic Italian proposal, down on one knee on a boat on Lake Como.
While the Hilton sisters are arguably two of the world's most famous heiresses, baby girl Hilton-Rothschild would actually still be an heiress herself even if her mother wasn't — Rothschild is actually the heir to the Rothschild family's European banking empire, worth a reported $700 trillion (!!!). I'm going to go out on a limb here and suggest that this little girl's nursery is going to be nicer than my entire house.
But even if big sis Paris did spill the beans on Nicky's baby, chances are she won't mind too much: the sisters are very close, attending events together on the regular, and sending each other loving shout outs on social media.
I think it's pretty safe to say that Paris is going to be one super-cool aunt.