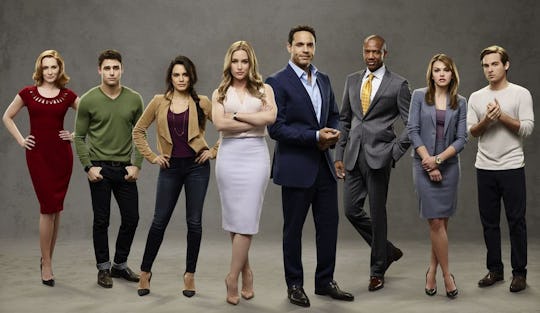 Kevin Foley/Freeform
Is 'Notorious' Based On A True Story? These Stories May Be Ripped From The Headlines
Get ready for your new TV obsession! This fall ABC added a new show to their Thursday night lineup. Notorious, a new drama that looks at the relationship between the media and the criminal justice system, will premiere on September 22 at 9 p.m. right after Grey's Anatomy. The show follows defense attorney Jake Gregorian (Daniel Sunjata) and TV producer Julia George (Piper Perabo) but is Notorious based on a true story?
Similar to the way Scandal is loosely based on the life of Judy Smith, an American attorney and crisis manager, Notorious is inspired by the true stories of criminal defense attorney Mark Geragos and cable news producer Wendy Walker. Both Geragos and Walker serve as executive producers on the show and it's clear Jake and Julia are based on them. The show probably won't follow too close to Geragos and Walker's personal lives but it will show the true-life working relationship they had as an attorney and a TV producer and how criminal law and the media interact.
Similar to Scandal, Notorious will most likely pull storylines straight from headlines. Whether or not they make the same kind of commentary as Scandal has become known for remains to be seen but the writers will have a lot to pull from both Geragos and Walker's lives. Geragos has worked with many celebrities and high profile clients including Chris Brown, Winona Ryder, Michael Jackson, President Bill Clinton's brother, Roger Clinton, Jr., Kesha, and many others.
Similarly, Walker, who's popularly known as the "woman behind the man," was the Senior Executive Producer at Larry King Live for 17 years. She was responsible for landing exclusive interviews with well-known celebrities and high profiled people and she's credited for having a large hand in making Larry King Live CNN's number one show. In her book, Producer: Lessons Shared from 30 Years in Television, Walker discusses how she orchestrated some of the most iconic interviews of our time.
It's clear both Geragos and Walker know there stuff and teamed up with amazing writers and a formidable cast there's new doubt Notorious will be one of the hottest shows on TV this fall. Make sure to check out this September; you don't want to miss it.