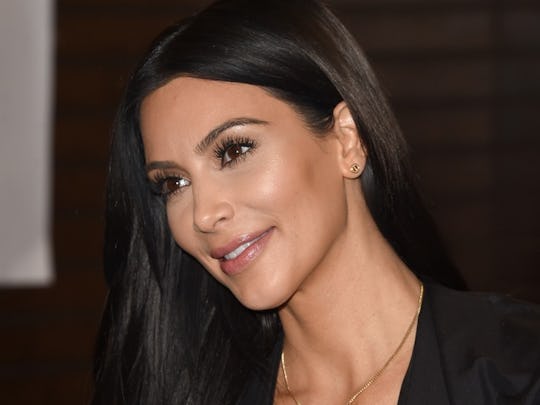 Jason Merritt/Getty Images Entertainment/Getty Images
Is OJ Simpson Really Kim Kardashian's Godfather? There's Only A Sliver Of Evidence
The new FX true crime drama The People v. O.J. Simpson: American Crime Story has reignited the public's interest in the 1994 murders of Nicole Brown Simpson and Ronald Goldman, as well as the subsequent trial of Brown Simpson's ex-husband, O.J. Simpson. And it's not solely due to the original intrigue of the case — an allegedly abusive relationship, a famous athlete, a dog as a witness. Another aspect that keeps fans tuning in is the case's proximity to a more recent crop of celebrities: the Kardashian family. What some may have forgotten, and others never knew, is that Robert Kardashian was part of Simpson's legal "dream team," and a good friend of the accused. Meanwhile, his ex-wife Kris Jenner was best friends with Brown Simpson. Oh, and one more thing: O.J. Simpson might be Kim Kardashian's godfather.
It's certainly no secret that the families were close. In fact, according to The Washington Post, it was Jenner who was tasked with going to Brown Simpson's condo, the scene of the crime, in order to pack up the children's things for the Brown family after the murder. "I was going through the toys she had bought them, and I saw Sydney's costume lying on the floor from the dance recital," she told the Post. "That was so hard. That was the pain, the real pain, that came from in my heart."
In a 2009 interview with Dr. Phil, the family recalled how the "trial of the century" drove a wedge between them. Robert maintained that his friend and client was innocent of the murders, while Jenner felt he was guilty. As Kourtney, Kim, and Khloe were shuttled between their parents homes, they felt pressure to take a side in the case — and, at least one time, a literal, physical side. "I remember one time going to the courthouse, and Kourtney and I went with my dad," said Kim. "And my mom's sitting across with Nicole Brown's family... We thought our mom was mad at us for sitting with our dad."
Why were two young teens attending a murder trial? That's a question for another day. Today's question: is Simpson really Kim's godfather? We may never know. Besides the fact that she's an adult and he's in jail (for an unrelated robbery), there's only one instance (besides American Crime Story) when anyone ever claimed that Simpson was her godfather, and it was Simpson himself who made the claim. Every single mention of him being her godfather traces back to a single 2008 Los Angeles Times article detailing a series of audio recordings played as evidence during Simpson's robbery trial. At one point, according to the Times, Simpson was flipping channels and stumbled on Kim on TV. "My goddaughter is being interviewed," he's quoted as saying. Then, "I was in the hospital when she was born." That's all the evidence we have.
It's important to remember that Simpson in 2008 was very different than Simpson in 1995. At the start of his troubles, he was all confidence and bluster, bragging about his taste in expensive shoes and publicly insisting that he was spending his considerable fortune on finding "the real killer." But, by 2008, he'd been maligned in the public eye and financially decimated by a ruling in a civil suit that held him liable for the deaths of his ex and her friend. So it's not outside the realm of possibility that he might overstate his relationship with Kim in order to try and hitch his wagon to a rising star.
So what does Kim have to say about Simpson? Practically nothing. In the Dr. Phil interview, she acknowleged that she and her sisters once referred to him as "Uncle O.J.," but makes no mention of him possibly being her godfather. In fact, she won't even go on record as to whether she thinks he's guilty or innocent of the murders. "That was the biggest struggle within our family, besides the divorce between my parents," she told Dr. Phil. "It's the biggest separation that my family's had, so why even kind of bring it up?" It seems that godfather or not, Kim would rather forget that Simpson even existed.