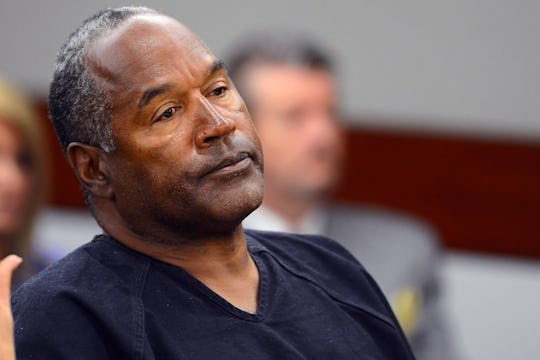 Ethan Miller/Getty Images News/Getty Images
Is O.J. Simpson Watching 'People V. O.J. Simpson: American Crime Story' From Jail?
Tuesday nights haven't been this exciting in forever. It's now known as People V. O.J. Simpson: American Crime Story on FX night. (At least in my house.) Even though most of us will be at home, comfortable, in our pajamas with some snacks tuning in, a lot of people are wondering if O.J. Simpson will be watching the show from his Lovelock Correctional Center prison cell in Nevada? To be honest, it wouldn't be too much of a shocker if Simpson could watch the show from his cell, considering some prisons do offer different "luxuries" these days to inmates, but don't get too wound up at the thought of the star of the show watching his life story unfold on the small screen. Inside Edition reported that Lovelock, Simpson's prison, doesn't get FX.
That doesn't mean the ex-NFLer didn't want to tune in to the show, though. Simpson's best friend, Tom Scotto, told the same publication that Simpson was really hoping to watch the FX miniseries. Scotto also shared with the publication that Simpson is having an incredibly difficult time behind bars, noteing that he's suffering from depression and piling on weight. But the series comes at a really interesting time for the star. Simpson was sentenced to 14 years behind bars for a 2008 gunpoint robbery, according to People. And, he's up for parole in 2017, according to Inside Edition. He was ultimately acquitted of the murder of his ex-wife Nicole Brown Simpson, the case the show is based on.
There's also been brand-new interest in the original case. According to reports, a Los Angeles police officer has allegedly had in his possession a buried knife from Simpson's former home. Capt. Andrew Neiman of the LAPD spoke at a news conference immediately following the news of the discovered knife and told ABC News that, "the story, as it's told to us by the [retired officer] that we received it from," was that the officer in question, identified as George Maycott, "was working in the area of the Rockingham estate and he claimed that an individual," who said he claimed a construction worker, gave him that knife. Because of double jeopardy laws in the United States, O.J. Simpson cannot be tried a second time for a crime he was acquitted of. Brown-Simpson and Goldman's murders, however, have gone unsolved.
Simpson's not the only one from this infamous murder trial interested in seeing how their "character" is portrayed in the show. (Honestly, it must be so strange to watch something that took up such a huge chunk of your life play out on television by actors.) Maria Clark, the prosecuting attorney who hoped to find Simpson guilty, and Kato Kaelin, Simpson's surfer boy roommate have both shared that they're watching the FX miniseries on television.
Ed. Note: An earlier version of this story did not properly cite an Inside Edition post on Simpson's current imprisonment and when he will be up for parole. Romper regrets the error.