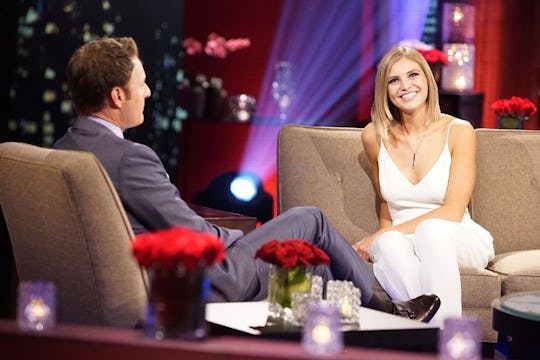 Kelsey McNeal/ABC
Is Olivia Caridi Dating Anyone After 'The Bachelor'? The Controversial Star Has Taken Time For Herself
Olivia Caridi caused quite a stir on The Bachelor. When she wasn't stealing Ben away from the other women, she was defending her toes or envisioning herself as the woman at the end. Olivia seemed certain she was going to win The Bachelor, so when Ben left her on an abandoned island with a "figure it out" goodbye, it's safe to say that she was caught off-guard. So, how is she doing now? Is Olivia Caridi dating anyone after her Bachelor stint, or is she still holding out to be Mrs. Ben Higgins?
Olivia spoke with Glamour magazine about her time on The Bachelor, and if you're expecting the real Olivia Caridi to be like the Olivia Caridi we saw on the show, the you might be surprised. In her interview, Olivia says that she feels like the real Olivia never got through on screen. She admits that she doesn't think she and Ben were meant to be, but she also doesn't mention anything about dating now. Luckily, social media is always there for us in a time of need.
So, is Olivia dating anyone now that The Bachelor is over? Surely her name being out there increased the amount of attention she got in her day-to-day life, but did that affect her dating life?
Going off of her social media, it seems that Olivia has taken time after The Bachelor to herself. She's been active on the site, but she's not posting kissing photos with a new guy, or even dwelling on her time on the show. Instead, it seems like Olivia is just enjoying being Olivia and doing her own thing. (And if the photo above means anything, she was probably prepping for House of Cards Season 4 like a lot of us.)
While The Bachelor allowed Olivia to explore some really exciting parts of the world, it seems like she continued her traveling post-Bachelor by going to Hawaii. Can't blame the girl for wanting to catch a little R&R after the crazy ride she had on the show, right?
If Olivia were to spill on any new relationship, what better time than during "The Women Tell All" episode. Chris Harrison tends to have a certain je ne sais quoi when it comes to getting information out of people. While we don't know if Olivia is dating someone right now, I personally think her journey on The Bachelor franchise isn't quite over, yet. Whether that means she is a Bachelorette in the future or on Bachelor in Paradise, I don't think her journey ends on that island in the Bahamas.