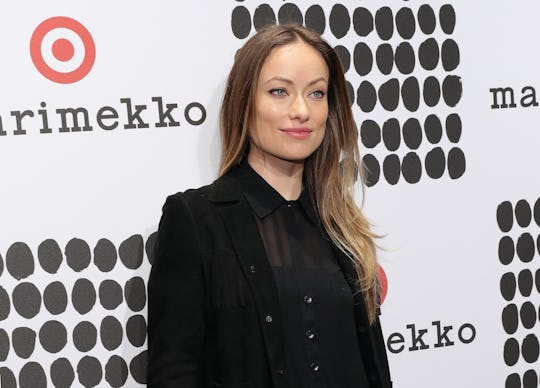 Neilson Barnard/Getty Images Entertainment/Getty Images
Is Olivia Wilde's Baby A Boy Or A Girl? She Shared An Adorable Bump Photo
Olivia Wilde took to Instagram on Monday to announce that she is pregnant with her second child. She and her fiancé, actor Jason Sudeikis, are thrilled for their beautiful, growing family. But is Olivia Wilde's baby a boy or a girl?
In the Instagram photo she posted on Monday, Wilde is on a bed with her son, Otis, who turns 2 years old this week. They are both holding their protruding bellies, so Wilde captioned the photo, "Matching baby bumps." With his genes, it's no wonder Otis is an adorable baby, and no doubt his little brother or sister will be, too. Recently, the family was on vacation in Maui, which is where this cute announcement photo was taken.
In the comments on Wilde's Instagram photo, fans said they were surprised they just now found out about the pregnancy, because Wilde looks pretty far along — definitely far enough to know if she's expecting a little boy or a little girl. With newer ultrasound technology, expectant mothers can find out the sex of their babies as early as 14 weeks into pregnancy. It's still unclear whether Wilde has chosen to find out the sex of her child or not, but she definitely hasn't announced it yet. So, fans will have to keep on waiting! For now, Wilde and Sudeikis are keeping it a mystery.
At a Marimekko for Target event in New York, Wilde told People that she was excited for another child, and that both she and Sudeikis are more than ready to give Otis a sibling. "I'm desperate for more [kids]!" she said. "I love my siblings so much and Jason has incredible siblings, too. The more the merrier." She went on to say, in a way, that Otis was looking forward to his new responsibilities as older brother. She said he "loves little babies. He has a Michael Jordan doll that he carries around sometimes. [He uses the doll] as either a hammer or a baby." The distinction between hammer and baby is subtle, and surely, by the time Wilde gives birth, Otis will get the hang of it.
So far, the Vinyl star and the Saturday Night Live alumnus have not let the pregnancy slow them down one bit. Wilde has continued working on a forthcoming Reed Morano film called Meadowland, and Sudeikis recently released his latest film, The Devil and the Deep Blue Sea, which he stars in with Jessica Biel. As a couple, they seem adept at juggling multiple projects at once, and that skill will definitely come in handy in a few short months when they welcome their new family member.