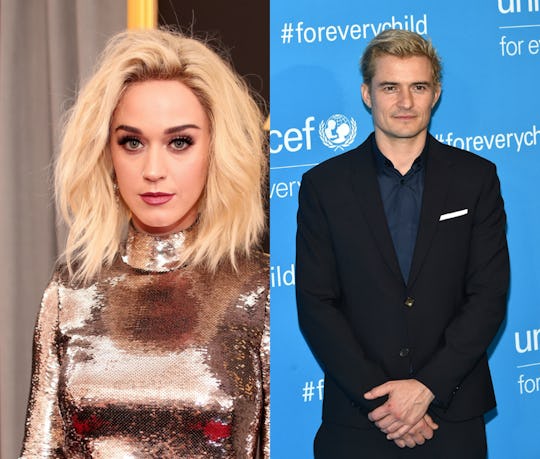 Christopher Polk/Getty Images Entertainment/Getty Images; Mike Coppola/Getty Images Entertainment/Getty Images
Katy Perry Showed Up At The Grammys Sans BF
When Katy Perry stepped onto the red carpet at the 2017 Grammys, she seemed to be flying solo for the evening, without her main squeeze Orlando Bloom in tow. Perry paused for interviews as she made her way down the red carpet, but she seemed to be doing so without her date. She also didn't mention Bloom, either, instead chatting about her new single "Chained to the Rhythm," which she would be performing later in the evening. So is Orlando Bloom at the 2017 Grammys? Did he just skip the red carpet?
It seems like Bloom did just that. There was no sign of him at the ceremony, and his social media didn't indicate that he was getting all dolled up to attend the awards. But that doesn't mean that there's trouble in paradise either. An Orlando Bloom fan account on Twitter reported that he did accompany Perry to a Grammys pre-party so it looks like he simply chose to sit out the event itself. Perhaps Bloom wasn't in the mood to check out the awards, or he and Perry are just looking to keep their relationship as private as they can. Though their picture has been snapped by the paparazzi numerous times over the last year, their relationship still isn't technically official.
Perry seemed to be handling the red carpet just fine on her own as she talked up her new single, telling Nancy O'Dell that "Chained to the Rhythm" was "still a dance song, but all of my songs have had meanings. It's not one dimensional. This song poses a question in your mind." Fans would get to enjoy her new single when she performed it later for the crowds at the venue and at home. It's pure speculation, of course, but one can hope that Bloom would be watching along with the rest of the at home audience, cheering her on.
Bloom and Perry appear to have kept their relationship fairly quiet despite all of the media reporting on it; At the very least, they haven't necessarily spoken about each other in public as much as they've been spotted together. However, things do seem to be going well, at least according to Bloom's ex, Miranda Kerr, who told People that they all get along like a "modern family."
Even though Bloom didn't accompany Perry on the 2017 Grammy Awards red carpet, their relationship appears to be steady for now – and that's all their fans can assume until they say otherwise.