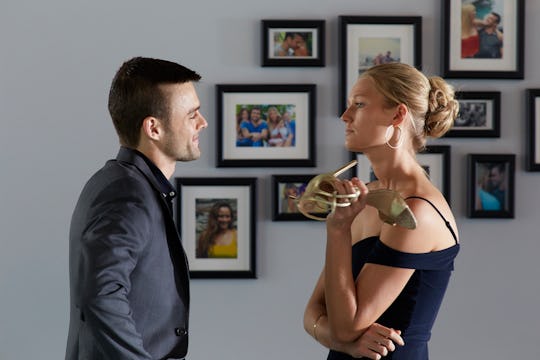 Derek White/Lifetime
Oscar Pistorius' Case Is Getting The Lifetime Treatment
Lifetime has often mined true crime cases for its original movies, but the promotional material for one of its upcoming films may have felt more familiar than most and left you wondering: is Oscar Pistorius: Blade Runner Killer based on a true story? The trailer proclaimed that it was, and the name in the title is sure to be known to many audience members. South African athlete Oscar Pistorius' involvement in the death of his girlfriend Reeva Steenkamp dominated news headlines when it happened.
Set to air on Nov. 11, the Lifetime movie features Andreas Damm as Pistorius and Toni Garrn as Steenkamp. It tackles the entire case from start to finish, first exploring Pistorius and Steenkamp's relationship, then the night of her death, and finally the lengthy trial. Though fictionalized, the story of the film is very real. After Pistorius' legs were amputated as a child because of his fibular hemimelia, which meant he had a congenital absence of the fibula, he went on to become a successful athlete with the help of prostheses. He competed in the Paralympic Games and, in 2012, became the first double-leg amputee to compete in the Olympics. He was nicknamed the Blade Runner.
Steenkamp had been a law student and horse rider, but broke her back in a fall and decided to make changes in her life after a long recovery. She chose to become a model instead of a lawyer. She met Pistorius at a track day at Kyalami racetrack and they quickly became involved. In 2013, Pistorius shot and killed Steenkamp in his home, claiming he thought she was an intruder.
Pistorius and Steenkamp had been dating for four months at the time of the shooting. She was shot three times while locked in the bathroom; when Detective Hilton Botha arrived on the scene, he found bullet holes in the door of the toilet cubicle, which had been broken into using a cricket bat. Shortly after the shooting, Pistorius called an ambulance and carried Steenkamp out of the bathroom to the foot of the stairs. He reportedly tried to resuscitate her and stem the bleeding, but she did not survive.
It seems Botha had little doubt that Pistorius was responsible for what happened. He told Vanity Fair:
There is no way anything else could have happened. It was just them in the house, and according to the security registers she had been staying there for two to three days, so he had to be used to her by that time... There was no forced entry. The only place there could have been entrance was the open bathroom window, and we did everything we could to see if anyone went through it, and it was impossible. So I thought it was an open-and-closed case. He shot her — that's it.
After the attack, Pistorius claimed that he thought it was a burglar; he hadn't recognized that it was Steenkamp. Family and friends who supported him insisted that this was plausible because crime was so rampant in South Africa. A friend named Mike Azzie said Pisorius had reacted similarly when other guests had stayed over his home, assuming the sound of someone moving around at night was an intruder when it was not.
In his affidavit, Pistorius claimed that he was "acutely aware of violent crime being committed by intruders entering the home" because he had been a victim of crime himself; when he heard a noise that night, he became terrified. He believed that Steenkamp was in bed, not in the bathroom. However, many did not believe that the murder was accidental or a case of self-defense, with the prosecution at the trial arguing that it had been deliberate.
Pistorius was initially convicted of manslaughter and sentenced to five years in prison, but after a year he was released to house arrest. That was later overturned and he was found guilty of murder, then sentenced to six years. Pistorius is currently still in prison.
Check out Romper's new video series, Romper's Doula Diaries:
Watch full episodes of Romper's Doula Diaries on Facebook Watch.