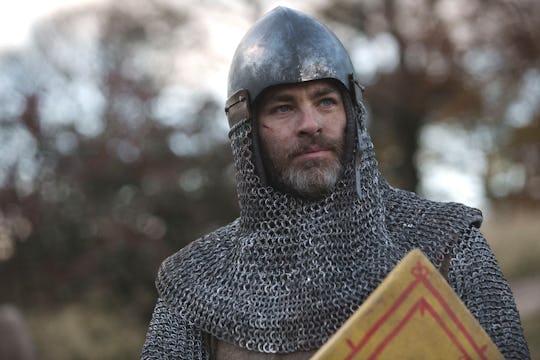 Netflix
Here's The True Story Behind 'Outlaw King'
Outlaw King is the true story of Chris Pine's first foray into full-frontal nudity in a movie, but viewers tuning into the Netflix historical epic for other reasons may be wondering: is Outlaw King based on real historical events? The bloody drama, which first premiered at the Toronto International Film Festival (TIFF), is, in fact, based on a real figure named Robert the Bruce who led a Scottish uprising against English occupation in the early 1300s.
According to the official Netflix description, Outlaw King tells:
The untold, true story of Robert the Bruce who transforms from defeated nobleman to outlaw hero during the oppressive occupation of medieval Scotland by Edward I of England. Despite grave consequences, Robert seizes the Scottish crown and rallies an impassioned group of men to fight back against the mighty army of the tyrannical King and his volatile son, the Prince of Wales.
Pine plays the titular hero and the film, with a runtime of two hours, packs in plenty of Scottish accents, epic battle scenes, and rousing speeches by Pine delivered from atop a horse. It also looks pretty gruesome, so if Game of Thrones-style carnage isn't your cup of tea, then Outlaw King may be a similarly difficult watch.
Of course, the first medieval Scottish warrior who comes to mind for most movie buffs is William Wallace, famously depicted by Mel Gibson in 1995's Braveheart. Robert the Bruce is a supporting character in that film (played by Scottish actor Angus Macfadyen), but he and Wallace are depicted as being on opposing sides. Aside from a relatively unknown British film called The Bruce (1995), Robert the Bruce has never been the focus of a major motion picture until now.
"Robert sacrificed everything he once owned to set Scotland free," Outlaw King producer Gillian Barrie told Entertainment Weekly in August. "He was the second richest person in the British Isles. He gave up everything to take on the most ridiculously powerful army and king. He had to go to hell and back."
Unsurprisingly, Pine killed it as an action star, according to Barrie, with an accent on top of the already physically challenging role. "He's amazing, apart from the fact his accent is spot on and his horsemanship was stunning," she said. "He was genuinely a leader for the rest of the cast. The amount of stunts and action he had to perform on daily basis…riding in a wild terrain, thrown into waterfalls…my hat's off to him, really."
The film reunites Pine with director David Mackenzie, who'd previously worked with him on 2016's Hell or High Water. Outlaw King shot on location in Scotland, and Mackenzie actually cut about 20 minutes from the film's runtime between the TIFF premiere and its Netflix release. In an interview with Collider, he cited its constant battle scenes as being a bit "relentless" for audiences. But Mackenzie said that he "infinitely prefer[s]" the shorter version and Netflix audiences will probably appreciate it, too. Outlaw King drops Friday, Nov. 9 on Netflix.
This article was originally published on