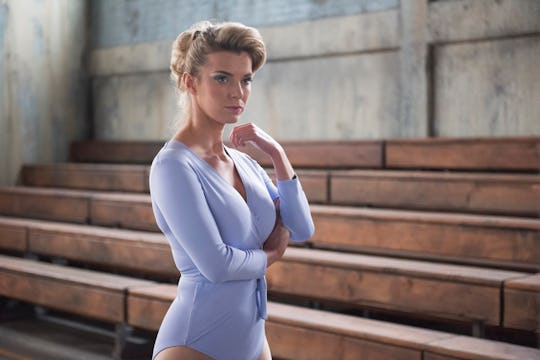 Erica Parise/Netflix
'GLOW' Highlights Debbie's Impressive Soap Opera Career
Netflix's new comedy GLOW follows a women's wrestling showcase, but it can get confusing, since it's partially based on a true story. Once upon a time, there was an actual television show called the Gorgeous Ladies of Wrestling, featuring the same kind of female wrestlers and characters that Netflix's GLOW introduces. In the show, Betty Gilpin's character Debbie used to be on a soap opera before joining the hilariously badass group of female wrestlers. So was Paradise Cove a real soap opera, just like GLOW is based on a real show?
Alas, there is no evidence that any soap opera named Paradise Cove ever existed, although if there's a pilot that never got the greenlight out there, I'd be dying to see it. No, it sounds like the references to Paradise Cove in GLOW are more to set the mood and tone of the time. In fact, Paradise Cove could likely be a reference to the Paradise Cove beach area of Malibu, a section of Los Angeles. Doesn't that just sound like the perfect place for a soap opera?
The fact that the series made Debbie's character a former soap actress is also very realistic. Most of the actual Gorgeous Ladies of Wrestling who worked in Las Vegas (the Netflix series is based in L.A.) were all former actresses, models, and other kinds of entertainers looking for their next gig.
The show really does conjure up the era in other ways, too. Alison Brie, who plays Ruth in the show, said that she and Gilpin got actual perms to complete their characters' looks. "That really took me back," she said in press tour interview for Hollywood XYZ. For Gilpin, it was all about the shiny tights and leotards the wrestlers had to wear. (Sheesh, even saying "leotard" is so '80s!)
The actresses worked their butts off for the part, too. Brie worked with trainer Jason Walsh, who also trained Matt Damon for the Bourne Identity franchise, and performed all of her stunts. "I'll tell you right now, I've worked with a lot of people and she's a little bad ass," Walsh told Business Insider. "Alison would be jumping off ropes and landing on people and flipping. I wanted to get her resilient so she didn't run the risk of injury."
So although the soap opera isn't real and the writers took some liberties with the characters, the hair, the stunts, and the itchy tights are totally authentic. Get ready to feel nostalgic.