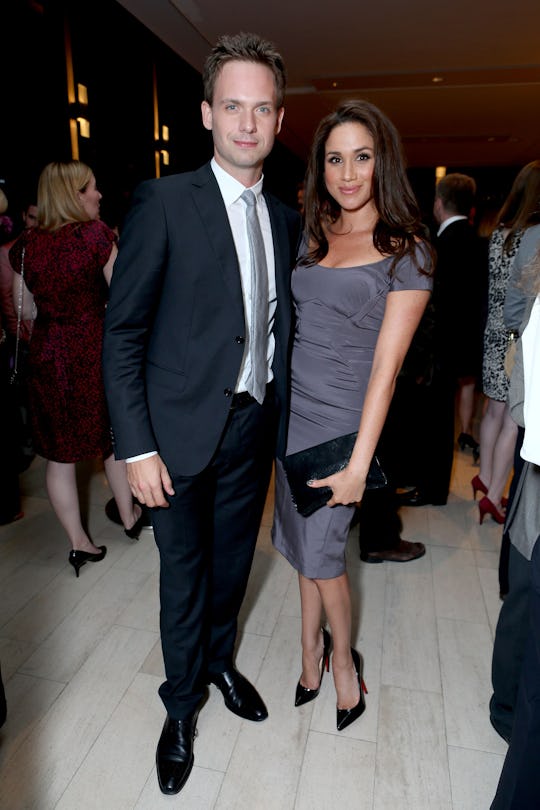 Alexandra Wyman/Getty Images Entertainment/Getty Images
Meghan Markle's 'Suits' Co-Star Was Totally Supporting His Friend At The Royal Wedding
Ready for a whirlwind weekend full of glitz, glamour, and royalty? Well, luckily you're getting plenty of it this weekend now that Prince Harry and Meghan Markle are finally tying the knot in the what's already looking to be one of the most epic weddings in history. Of course, the wedding is being attended by the royal couple's family and friends, but what about Markle's Hollywood co-stars? Some of her TV castmates are already in London, but Suits fans are dying to know, is Patrick J. Adams at the royal wedding?
Most of the cast has managed to remain pretty tight-lipped about the wedding and any details surrounding it, however, according to Hello Magazine, an anonymous source has confirmed that wedding invitations were sent out to the Suits cast and key executives from the show. Adams, who played Markle's love interest Mike Ross on the show for six years, was also invited, so it came as no surprise when he was spotted at the ceremony.
Adams, like the rest of the Suits cast, has not been super talkative about Markle and the wedding, but in an interview with Entertainment Tonight, he and his wife Troian Bellisario (from Pretty Little Liars fame), did talk about getting her a wedding present. In the interview, Adams and Bellisario talked about getting Markle a Vitamix for her wedding, and discussed where they would get their fascinators and tailcoats for the big day. I think it's pretty classy that her friends have chosen not to exploit any details, and it just goes to show how strong their friendship really is.
Just by perusing the cast's social media accounts, you can get a sense of how they have been logistically gearing up to make it to Markle's London wedding. Adams' Instagram account shows a photo of him in London, visiting a historic ale house with his wife, so he probably soaked in as much relaxation as he could before the wedding madness. Gabriel Macht, who plays Harvey Specter on the series, and his wife, Jacinda Barrett, both posted pictures on Instagram from London this week, while Sarah Rafferty, who plays Donna Paulsen, posted pictures from nearby Paris.
Along with her Suits castmates, plenty of other big name celebrities were expected to attend as well. In April, Markle's long-time friend and Quantico star, Priyanka Chopra confirmed she would be coming to the wedding on Live With Kelly and Ryan. Us Weekly also confirmed prior to the big day that celebrities including George and Amal Clooney, Serena Williams, Janina Gavankar, and all five of the Spice Girls — Victoria Beckham, Mel B, Melanie C, Emma Bunton and Geri Halliwell — were slated to attend the royal wedding.
Unlike her close friends and colleagues however, some of Markle's family will no longer be part of the celebrations. In a statement on Thursday, she confirmed that her 73-year-old father, Thomas Markle, will not attend the wedding due his recovery from his recent heart surgery, reported CNN, which comes on the heels of the report that he had paid a celebrity photographer to stage photos of him preparing for the wedding. Additionally, Markle's older half-sister, Samantha Grant, was injured in a car crash after allegedly confronting the paparazzi, noted the Telegraph.
However, on a more positive note, Markle's mother, Doria Ragland, and her best friend, Jessica Mulroney will be part of the wedding, according to Us Weekly, along with Prince William, Duke of Cambridge and Kate Middleton, Duchess of Cambrige, as well as the rest of the royal family. But this wedding is really about Prince Harry and Markle's whirlwind love story, so regardless of who attends, their nuptials will truly be a magical, fairytale affair.