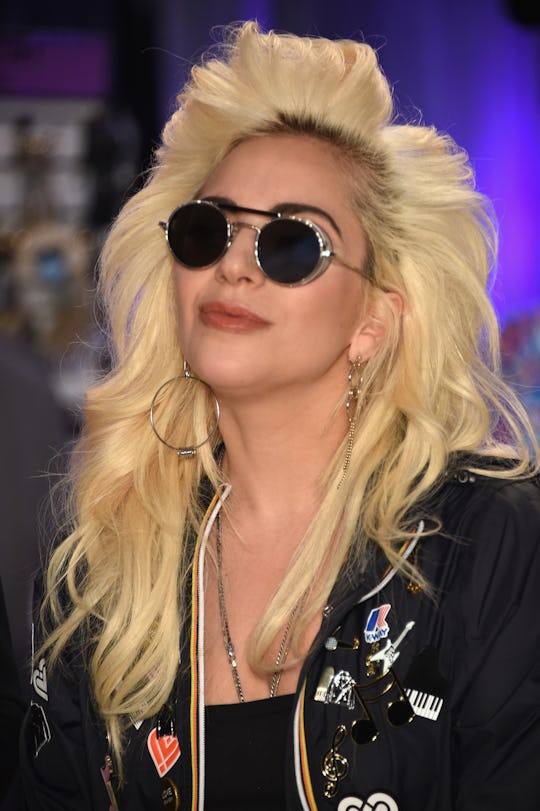 Dimitrios Kambouris/Getty Images Entertainment/Getty Images
Is "Perfect Illusion" On Spotify? Lady Gaga's Newest Single Is Here
It's an exciting day for Lady Gaga fans: her new single, "Perfect Illusion," was released Friday. The track is the first offering from her much-anticipated (yet currently still untitled) new album, and also her first solo release in almost three years. Naturally, pretty much the entire Internet is celebrating today, and if you haven't heard the song yet, you should do that ASAP. Is "Perfect Illusion" on Spotify? Why, yes it is. And that means your first listen to Lady Gaga's new song is just a click away.
According to Us Weekly, Lady Gaga announced the release of her new single to the world on Twitter late Thursday night in a series of excited tweets — including a now-pinned tweet linking to the song on Spotify. And honestly, she had plenty of reason to be excited about it (as did all of her fans), because the upbeat, Mark Ronson-produced track has been hailed as the return to the "Just Dance" Lady Gaga we've all longed to hear from again. And it definitely sounds like she found the right song for her unofficial comeback: according to Billboard, Gaga discussed the track last month ahead of its release, and said,
The song is about modern ecstasy... We found our sweet, simple, ragey way of saying it... I get this sick adrenaline rush every time I hear it.
But she wasn't the only one raving about her new project. In an interview in May, Ronson spoke about collaborating with Lady Gaga, according to Us Weekly, and even revealed that she learned guitar as part of the album process:
She's never played guitar in public before... She's happiest when she's sitting at a piano, barking orders at a drummer. That side of her, I don't think a lot of the world has seen. It's really great to make this very honest, authentic, kind of analog record with her.
Although Lady Gaga's last album, 2013's Artpop, wasn't considered particularly successful, her fans are still hugely supportive, so much so that "Perfect Illusion" has already hit number 1 on iTunes charts around the world. And with the return of the old Gaga they know and love? Well, they're kind of losing their minds on Twitter:
Even though Lady Gaga's new album might still not have a name or an official release date, she did share some details about it Friday with BBC Radio 1, according to The Independent. So what exactly might we be able to expect? A duet with Florence Welch, for one (ahhh!). She explained,
Me and Florence Welch did a duet together. I started to work on an idea for a song that I really wanted to do with a girl. You'll see why when you see what the song is about.
I just thought, 'Who do I want to sing with?' She's really to me if not the best, one of the greatest vocalists in the world. She's incredible.
She also clarified her inspiration behind the lyrics of "Perfect Illusion," which many have speculated could have been about her ended engagement to Taylor Kinney. Not so she said, explaining that the song was actually about social media and the lack of reality and authenticity online (who knew?).
People feel pressured to live up to that perfect illusion in their real lives. This is about accepting that and letting go. I'm not saying not to use your phone, I'm not that crazy. I think social media is great. But there's also a lot of things that are on the internet that aren't reality.
It may have taken a long while, but with the release of "Perfect Illusion," not only is Lady Gaga back, but she's better than ever. And chances are, if the response to her latest single is this great, the response to her new album is going to be even greater.