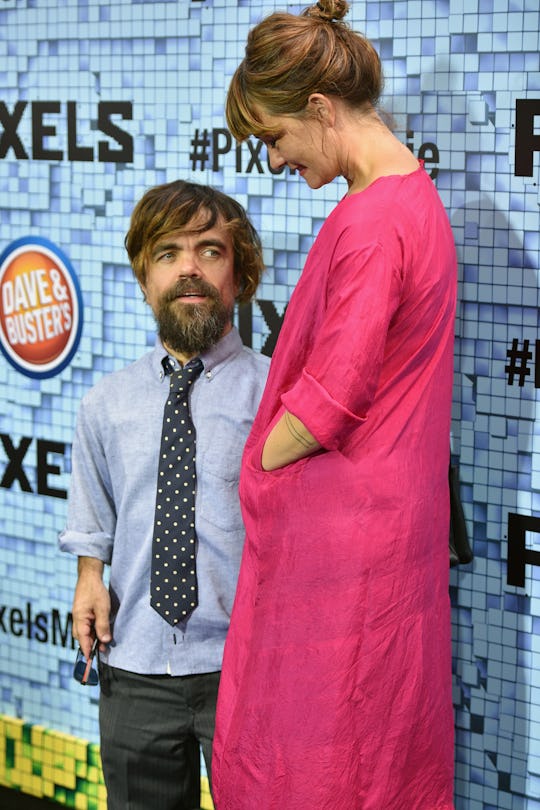 Grant Lamos IV/Getty Images Entertainment/Getty Images
Peter Dinklage Is Keeping His Kid's Name Private
Congratulations are in order: According to a March 2 report by People, Game of Thrones star Peter Dinklage and his wife, Erica Schmidt, are expecting baby number two! The new addition to the family will join the couple's 5-year-old daughter, a girl known in a healthy number of online reports as Zelig Dinklage. But is Peter Dinklage's daughter really named Zelig?
Despite the fake fact's appearance in Wikipedia and plenty of online articles, Dinklage says it's not true. "Let me tell you right now: her name is not Zelig. But it's hilarious that that's a fact in Wikipedia," Dinklage told The Guardian in 2015. However, he hasn't gone as far as to correct any outlets that have named the 5-year-old "Zelig," and he even told The Guardian that he wasn't bothered by the incorrect information, saying, "I don't care!"
So what is the youngest Dinklage's name? Neither Dinklage nor Schmidt, a theatre director, have volunteered the information publicly, and it seems like the pair are intent on preserving their daughter's childhood and privacy for as long as possible. "I am so protective of everything that society has to offer," he told The Guardian. "People see actors at red-carpet events and think that applies to my whole life, but it really doesn't. I live in New York and I have a little place in the woods where I tend my garden. I like privacy and all this [press] is not my thing. I'm not jetting off to another fancy place after this."
Dinklage is also not a fan of strangers taking pictures of him and his family while they're out and about. "It's the sneaking of the photo I don't like," he told The Guardian. "It's hard when you have your kid with you and you feel everyone is just spying and not really living in the moment."
Neither Dinklage nor Schmidt's reps have released statements regarding Schmidt's pregnancy, but Schmidt showed off a growing baby bump on the red carpet of the New Group's premiere of All the Fine Boys, a play she wrote and directed. According to People, the play's cast joined her in putting their hands on her baby bump as Schmidt laughed.
Schmidt and Dinklage married in 2005, according to E! News, and welcomed their daughter (who I will now always call "Not Zelig" in my mind) in 2011. Their family now lives in upstate New York — Dinklage told The New York Times that living in the city made him feel like he was becoming "a bitter old man" — and live a fairly private life.
Congratulations to Schmidt, Dinklage, and their daughter on the new addition to their family! And who knows, maybe they'll decide to actually name this second child Zelig.