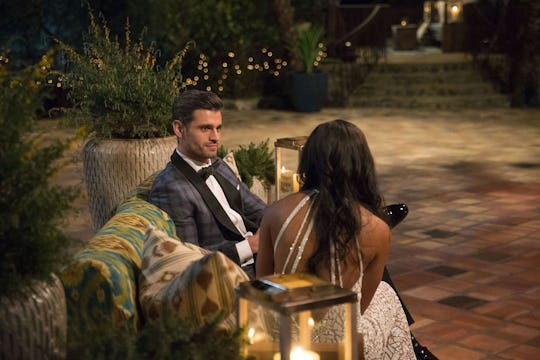 Paul Hebert/ABC
Fans Are Curious About Peter's Love Life After 'The Bachelorette'
Peter Kraus won over fans of The Bachelorette very early with an extremely endearing conversation in which he bonded with Rachel over their mutual, radically embraced front tooth gap. Then, fans found Peter's scantily clad modeling photos on Instagram and he's been the one of the season frontrunners ever since. He is really, really, ridiculously handsome, an objective truth that is somehow heightened by the fact that he's a retired model. (Now he's a fitness trainer with his own business.) He's still in the running on the show with seven suitors left, but is Peter single after The Bachelorette? He's stayed pretty tight-lipped.
His social media profiles mostly point to him working, traveling for work, working some more, spending tons of time with family, and moving (although no definitive clues as to where and from where). No mention of a lady love, but contestants are obviously sworn to secrecy and whoever wins is forced to date Rachel incognito until the finale airs, so viewers wouldn't expect to spot Rachel and Peter together if he did win.
All his traveling could be a big clue, though. It could give him and Rachel an excuse to meet up in cities other than their hometowns, since it would obviously raise suspicion if she kept flying to Wisconsin or he kept going to Dallas. Then again, all the time he's spending at home with family might point to him returning to a safe, supportive environment in the aftermath of a tough breakup.
He's also making the most of his Bachelor Nation fame and channeling his newly found Instagram following of a whopping 154,000 to promote and take Peter Kraus Fitness on the road. In addition to the excuse to post tons of shirtless pics, he genuinely seems to be enjoying the hustle of capitalizing on his popularity and getting a new business off the ground.
Of course, traveling all over the country might also point to a sly campaign to win hearts and minds in order to be named the next Bachelor, should things between Peter and Rachel not work out at the end of the season. He'd be a widely adored choice, although it would be nice to keep the more diverse cast dynamics going with another black Bachelor. It's genuinely difficult to tell whether fans would rather Peter end up with Rachel or have him become the next Bachelor, but either way, producers definitely aren't at a loss for options regarding who to cast next.