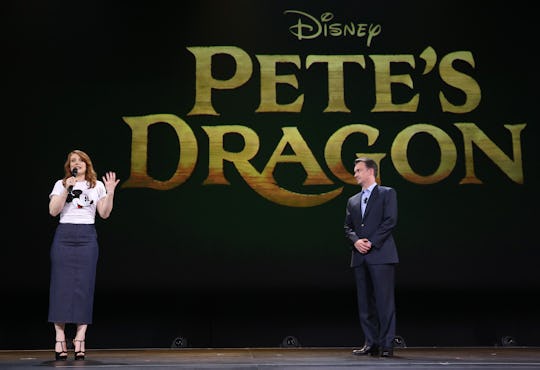 Jesse Grant/Getty Images Entertainment/Getty Images
Is Pete's Dragon Based On A Book? The Movie Has An Interesting Origin Story
After one of the more disappointing summer movie seasons in recent memory, a little boy and his pet dragon are swooping in to save the day. The new Disney blockbluster Pete's Dragon is being hailed by critics as the best film of the summer. It's no surprise either. Pete's Dragon is utterly captivating, from it's heartwarming story of a young orphan who survived in the wilderness for six years with the help of his best friend, a dragon called Elliott, to the stunning special effects. It feels like a new take on the classic fairy tales you know and love, however, Pete's Dragon isn't based on a book like many of Disney's movie fare.
Pete's Dragon isn't inspired by the famous Grimm's Fairytales like Cinderella or a collection of stories like The Jungle Book. Pete and Elliott's story has been told before, though. While the inspiration didn't come from the pages of literature, it has been seen on the big screen once before. Pete's Dragon is a reboot of a 1977 Disney film of the same name. The original version is a campy live action musical with an animated version of Elliott the dragon. It's beloved by many fans who grew up watching it, however, it was not as critically acclaimed as it successor. ‌
Pete's Dragon had a long shelf life at The Walt Disney Company before coming to life in 1977. The original idea for the story of Pete's Dragon comes from an unpublished short story written by Seton I. Miller and S.S. Field. Walt Disney purchased the rights to the story in 1957, however, development was put on pause after his death in 1966. A decade later, screenwriter Malcolm Marmorsten adapted the work in to a script and Pete's Dragon was finally transformed into a feature film.
Despite the long journey to get the original Pete's Dragon to the silver screen, reviews for the film were less than enthusiastic. It has a 48 percent rating on Rotten Tomatoes, the critical consensus being that it's "boring and slow, this is a lesser Disney work, though the animation isn't without its charms." There was enough magic in the film, however, to spark the publication of books based on the characters of Pete and Elliott. A Little Golden Book based on the 1997 film was released after the film hit theaters. Accompanying the release of the reboot, Disney Book Group released Pete's Dragon Junior Novel in June.
Whether you're a fan of the original Pete's Dragon or not, the reboot is an uplifting film the whole family can enjoy. If you find yourself being swept away by the enchanting tale of Pete and Elliott this summer, you can turn to the pages of the books inspired by their cinematic friendship.