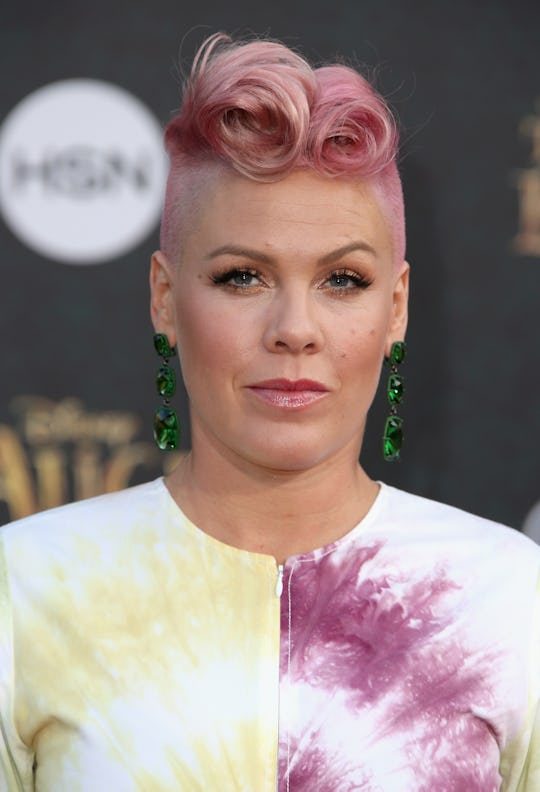 Frederick M. Brown/Getty Images Entertainment/Getty Images
You Don't Need To Question Whether Pink Is Lip Syncing At The Super Bowl — Here's Why
If you're as big a fan of Pink as I am, then the news that she'll be singing the national anthem during this year's Super Bowl is great news. The girl's got a beautiful voice, represents awesome ideals, and just released an amazing new album last year. The Super Bowl is no small gig, though, and there's plenty of pressure involved, leading some fans to ask: is Pink lip-syncing at the Super Bowl?
The chances of the 19-time Grammy nominee lip-syncing are incredibly low, considering she's been vehemently against the practice throughout her entire career. In 2010, after some questioned whether Pink was actually singing as she turned impressive acrobatic tricks at her Grammy Awards performance, she tweeted:
I hear there's a debate over whether or not I sang live on grammies. I have never lip synched in my entire life. I'm 100% against it.
That same commitment to singing live while churning out amazing performances has earned Pink plenty of awe from the public, as well: last year, one Twitter user watching the American Music Awards tweeted, "How some people are OK lip-syncing at the same event where P!nk is literally scaling buildings without missing a note is beyond me."
After word got out that Pink would be opening up the Super Bowl, past performer Kelly Clarkson put in her own two cents during an interview with the Star Tribune. "I guarantee you that Pink is like me and doesn't lip-sync, ever," she said. She also threw in some advice for her friend, saying:
Definitely make sure you're wearing in-ear [monitors] because boy, that two- or three-second delay [in the stadium speakers] can really screw ya. It can end up being the longest version of "The Star-Spangled Banner" ever. There is so much pressure on you. Man, when you screw it up, people never let you forget it.
So, now that we've nailed down the pretty sheer impossibility of Pink lip-syncing, here's details about what will be happening. The game starts at 6:30 p.m. ET in the U.S Bank Stadium in Minneapolis, and Pink will sing "The Star-Spangled Banner" shortly before the fun kicks off. And judging by Pink's tweets about the event, the Beautiful Trauma singer is seriously looking forward to the game.
"Ummm. I'm singing the national anthem and the EAGLES ARE PLAYING?!?!?!" she tweeted last week. Along with some gibberish that was likely Pink attacking her keyboard with excitement — hey, I get those feels all the time and I'm not remotely close to singing at the Super Bowl — she continued:
IS THIS FOR REAL?!?!?!THATS WHASSUP!!!!!!!!
Soon after sharing her excitement that she'd be singing the national anthem just before the Eagles played, Pink added on Twitter, "I would bet money that my big brother is somewhere crying right now."
Pink's not the only millennial favorite that will be performing tonight, either. Justin Timberlake, who only recently released his new album Man of the Woods, will be taking over the halftime show — his first appearance back on the Super Bowl stage since 2004, when he and Janet Jackson sent the world into a frenzy after a "wardrobe malfunction" left Jackson slightly topless.
So far, Timberlake has told fans that "the odds are good" that he'll perform his song "Can't Stop the Feeling," according to CNN, but he hasn't revealed any other details. Personally, this Pink fan is hoping that she comes out for a Beyoncé-Bruno Mars-esque dance-off circa 2016's amazing halftime show, though — despite my love of Pink — I'm not quite sure anyone could live up to that dance-off. Still, is some kind of collaboration there too much to ask for? Either way, bring on the national anthem. Pink's going to kill it, and I mean that in the most patriotic way possible.
Check out Romper's new video series, Romper's Doula Diaries:
Watch full episodes of Romper's Doula Diaries on Facebook Watch.