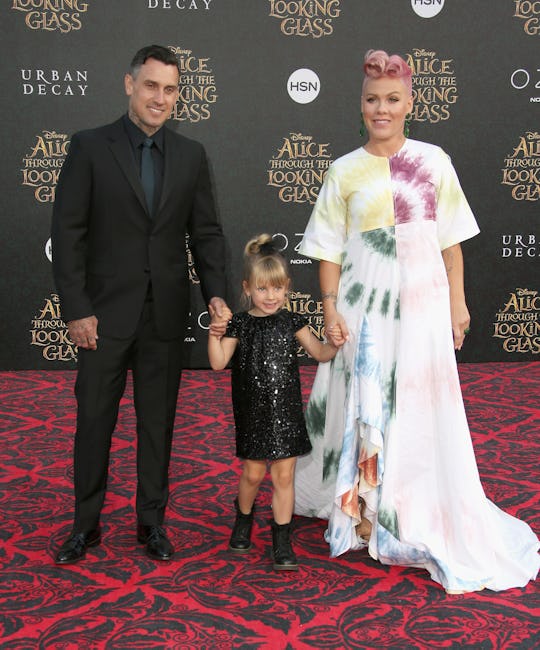 Frederick M. Brown/Getty Images Entertainment/Getty Images
Pink's Daughter Willow Is Proudly Cheering Her Mom On At The Super Bowl
It's barely February and already, Pink is off to an epic start to 2018. Not only did this bad*ss mama perform live for the Grammy Awards last weekend, but she sill also help kick off Super Bowl LII by singing "The Star-Spangled Banner." Traditionally, the busy mom of two has brought along members of her family with her to big events — and especially for occasions at which she's performing. So fans of the "What About Us" singer are probably all wondering the same thing about now: Is Pink's daughter at the Super Bowl? Because Willow seems to do everything with her famous mama.
Pink and her husband, Carey Hart, currently have two children together: A daughter, Willow, 6, and a son, Jameson, 1. And it seems like famous singer is always looking for ways to include her family in her music and performances. Tonight, little Willow was already spotted with her famous mom at U.S. Bank Stadium in Minneapolis before the pre-game festivities started. Because of course Pink would want her family members to witness a life-long dream of hers coming true. Willow was sighted alongside her father in a pre-game Instagram.
Recently Willow also appeared in the singer's new music video, "Wild Hearts Can't Be Broken, reported Business Insider. "In the powerful performance, Willow shows up after Pink says the song is her battle cry and then again, at the end of the emotional song when she gives her mama a kiss on the cheek. Even more impressive? This is actually Willow's third appearance in a music video, reported W Magazine. Not bad for a 6-year-old.
Then again, Willow is certainly no stranger to the spotlight. This might hav something to do with the fact that Pink's daughter has walked with her mom on many a red carpet. In fact, for the Grammy's at Madison Square Garden last weekend, Pink and her daughter totally killed it, as Entertainment Tonight reported. (And just look at this adorable family shot beforehand!)
In her acceptance speech at the MTV VMAs last year, Pink also shared with the crowd an empowering lesson she taught Willow— which involved a PowerPoint presentation about beauty and self-acceptance — after her daughter casually told her, "I'm the ugliest girl I know." Willow explained to her mom that she looked like a boy, to which Pink responded:
I said, "Well, what do you think I look like?" And she said, "Well, you're beautiful." And I was like, "Well thanks, but when people make fun of me that's what they use. They say that I look like a boy, or I'm too masculine, or I have too many opinions, my body is too strong ..." Baby girl, we don't change. We take the gravel and the shell, and we make a pearl. And we help other people to change so that they can see more kinds of beauty.
The "What About Us" singer also wowed fans when she showed up to the CMA Music Awards in Nashville, Tennessee, with a pint-sized date — her 6-year-old daughter! I mean, just look how fierce Willow looked on the red carpet that night.
Honestly, I'm not sure how many 6-year-olds can say they've been to this many major award ceremonies, appeared in as many music videos, and attended as many big-ticket events as Willow. But I guess those are just some of the awesome perks that go along with being the daughter of Pink. You know that, and being responsible for getting a Super Bowl performer sick with influenza just days before her big performance. Yes, really.
Pink took to Twitter on Saturday, revealing that she was "trying to practice the flu away," reported People. On the eve of Super Bowl Sunday, the singer revealed via Instagram her frustrating situation — all thanks to her children. "I've been waiting to sing this song since 1991 when I saw my idol, Whitney Houston, own this song," Pink wrote. "And now, my chance has finally come."