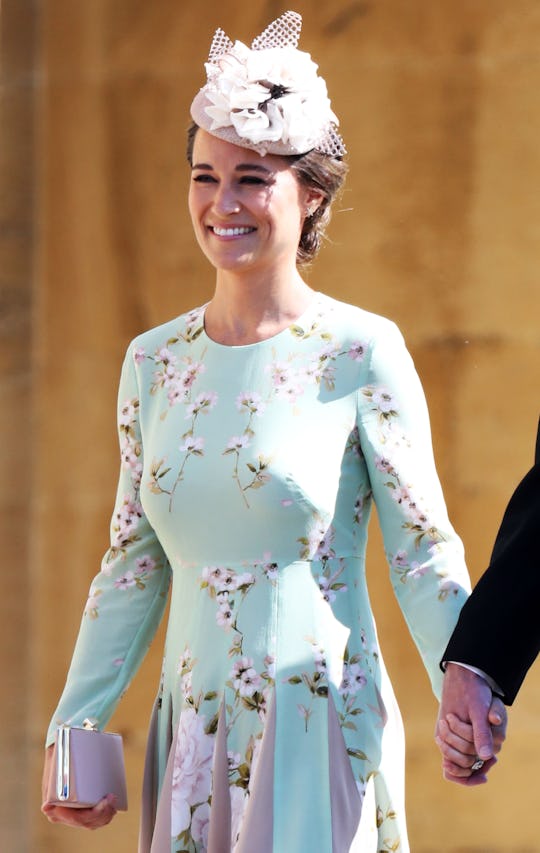 Chris Jackson/Getty Images Entertainment/Getty Images
Is Pippa Middleton A Princess? She Has A Fancy Title, That's For Sure
It's no secret the royal family has a dedicated fan base, even here in the U.S. Although Prince William may not be the future monarch of our nation, he, Kate Middleton, and their family are still endlessly fascinating to us here across the pond. From their fashion choices, to their adorable children, to tidbits about their past, people can't get enough of the Cambridges. (Or of the newly-married Prince Harry and Meghan Markle.) The infatuation even extends to in-laws of the royal family — and Kate Middleton's younger sister in particular. But is Pippa Middleton a princess? She has a fancy title, that's for sure.
I think it's safe to say that Pippa Middleton was on no celebrity magazine's radar prior to her older sister's nuptials. However, she catapulted into a sort of worldly fame after the 2011 wedding between Prince William and Kate Middleton. And it's not for any reasons you might expect. Sure, Pippa was the maid of honor at the royal wedding. (Which is kind of a big deal.) However, it was her booty that ended up stealing the show on that fateful April day. Apparently the figure-hugging dress she wore for the occasion drew attention to her voluptuous bum — resulting in an internet spectacle that lives on even today.
Some even thought the younger Middleton padded her butt. Others even flat-out accused her of wearing a false bum.
Butt scandal aside, Pippa was once again in the spotlight when she walked down the aisle herself in 2017 — and gained a fancy new title to boot. As In Style reported, Pippa married James Matthews on May 20, 2017. Her hubby just so happens to be an heir to the Scottish title of Laird of Glen Affric. His father is currently holds this position because he owns a 10,000-acre Scottish highlands estate, the publication report. So when Matthews eventually inherits this title, Pippa will technically be Lady Glen Affric. Until then, she is Mrs. Matthews of Glen Affric the younger. Pippa isn't technically required to use either of these titles, if she chooses not to. (Heck, I know I would jump at any opportunity to use the title, "Lady.") Granted, she's no duchess or princess, like her sister Kate Middleton. But it's still kind of cool, right?
For the record, Pippa also made an appearance at the wedding of Prince Harry and Meghan Markle on May 19. Except this time around — thankfully — her bum wasn't the talk of the internet. The pattern of her dress, however, was widely compared to the Arizona green tea can, People reported. And honestly, I have to agree with this assessment. "Who wore it Better, Pippa Middleton or Arizona Green Tea?" one person tweeted, along with a side-by-side comparison of Pippa and the can of tea.
"Pippa Middleton sponsored by Arizona," another Twitter user wrote.
In case you missed it, rumors that Pippa was pregnant started swirling back in April, just days before Kate Middleton delivered her third child, People reported. There was, however, no sign of a visible "bump" at Prince Harry and Meghan Markle's wedding. (Perhaps the Arizona can-esque pattern was a strategic distraction from the pregnancy rumors?) It wasn't until a few weeks later that Pippa confirmed the news herself, Time reported. On June 7, a fitness column Pippa writes for the British grocery store magazine, Waitrose Weekend, confirmed the rumors. The piece was titled, "Exercising during pregnancy," and it featured several shots of Pippa doing just that. "This being my first pregnancy, I had so many questions I felt were still unanswered," Middleton wrote. "I wanted to know things like, would I strain if I served in tennis, are strokes of swimming safe, can I still do a normal yoga class if I avoided certain positions? Could I still work my abs?"
So there you have it. Kate Middleton's younger sister, Pippa, may not be a princess. But she will one day be a "Lady." And that's pretty darn bad*ss, if you ask me.