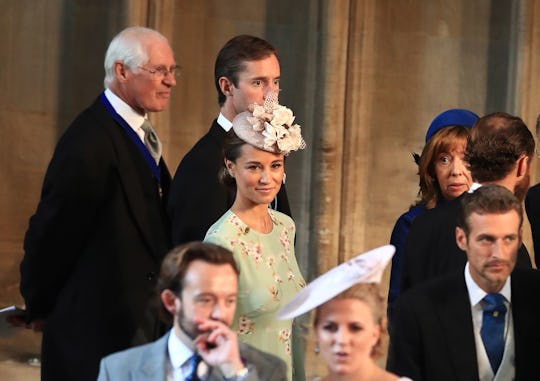 WPA Pool/Getty Images Entertainment/Getty Images
Pippa Middleton, A Royal Wedding Favorite, Made Meghan & Harry's Nuptials
Even though the last royal wedding was over seven years ago, it's still talked about on a regular basis. And why shouldn't it be? It was kind of a big deal, and the royal wedding between Prince Harry and Meghan Markle will be talked about long after as well. But just how big is it? Like, is Pippa Middleton at the royal wedding? Well, the sister of Duchess Kate hadn't been confirmed to attend the event, but seeing her isn't really all that surprising. Truly, Middleton isn't exactly close to Markle, but that doesn't mean she didn't want to be there. And now that the big day is finally here, it's clear that Middleton's presence at Prince Harry and Markle's big day is kind of exciting.
Now, if you don't remember, Middleton is kind of known for her attendance at royal weddings. After all, it was at her older sister's wedding to Prince William back in 2011 that the 34-year-old was first really introduced to the world. And let's just say, most people weren't talking about how sweet she was (although she probably is). Oh no, one of the most iconic moments of Prince William's wedding to the older Middleton sister was when Pippa held her sister's wedding dress train, and the world learned just how in shape she was.
Even though this next royal wedding doesn't involve one of Pippa's siblings, she's still family to Prince Harry, so it makes sense that she's there.
However, this royal wedding has definitely been talked up since it was announced back in November. Seriously, once Prince Harry and Markle announced their engagement, the world collectively freaked out about what it would entail.
Of course, now that the big day has arrived, the world is watching, and every single detail about today will go down in history. And a certain Middleton sister's attendance at the event is a much buzzed-about topic of interest. Middleton's own wedding to James Matthews almost a year ago, on May 20, 2017, was all over the headlines, and it was there that the world got a glimpse into Prince George and Princess Charlotte behaving like typical toddlers, being disciplined by their mom in a public place and everything.
So naturally, it would make sense that the world would wonder whether or not the mom-to-be would be at Prince Harry's big day. Middleton might not be a duchess like her older sister, but she's certainly a semi-celebrity in her own way.
Of course, Pippa's presence at the royal wedding isn't the biggest news of the day. After all, a British prince is marrying an American actress who has been divorced and grew up Catholic. There's kind of a lot of protocols being broken, but Queen Elizabeth II has already given her blessing to her grandson, and the wedding is under way. Per Town & Country, the queen's blessing is pretty formal, and reads as follows:
My Lords, I declare My Consent to a Contract of Matrimony between My Most Dearly Beloved Grandson Prince Henry Charles Albert David of Wales and Rachel Meghan Markle, which Consent I am causing to be signified under the Great Seal and to be entered in the Books of the Privy Council.
So, yeah, today is kind of a big deal, and just because Middleton is there, that doesn't really change anything. A prince is getting married, and the world is watching it all unfold. While some may say that it's a frivolous event to watch, or that it's ridiculous to be awake at 5 a.m. EST to tune into it, they're simply wrong.