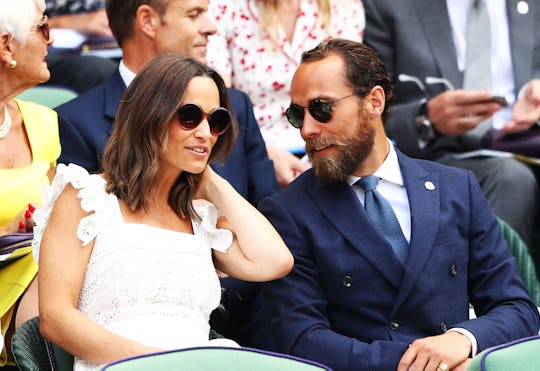 Michael Steele/Getty Images Entertainment/Getty Images
Don't Expect To Find Out If Pippa Middleton Is Having A Boy Or A Girl Until Her Baby Is Born
Ever since the royal wedding between Prince William and Kate Middleton back in 2011, it seems the world has been obsessed with Duchess Kate's younger sister, Pippa Middleton. So you can bet followers of the royal family were all over the pregnancy rumors, which started swirling earlier this year. Ultimately, Middleton ended up confirming her baby news — and she's been photographed a handful of times sporting an obvious and adorable bump. But other than that, not much about her pregnancy is known. As the royal in-law continues to progress in her pregnancy, many people are probably wondering: Is Pippa Middleton having a boy or a girl?
Unfortunately for fans, Pippa herself hasn't come out with any announcements either way on her baby's sex. However, her brother-in-law (no, not Prince William) Spencer Matthews — who is the brother of her husband, James Matthews — did recently address the topic during an appearance on the U.K. talkshow This Morning, according to People.
"And your brother is about to become a dad as well a little bit after you with Pippa Middleton," host Ruth Langsford said to Matthews — who also happens to be expecting his first child (a boy) with model Vogue Williams, according to People. "So, do they know if they're having a boy or a girl?"
"They don't," Spencer answered. "They're extremely private and honestly, we know nothing."
(Skip ahead to the 3:40 mark in the video below to hear Matthews' remarks about the sex of his brother's baby-to-be.)
Yep, it seems as if Pippa is taking after her sister, the Duchess of Cambridge, when it comes to finding out the sex of her child. If you remember, Duchess Kate and Prince William opted to wait to know the sexes of their three children until after they were born, as Express reported. So Pippa and her husband will be just as surprised as the rest of the world when their baby is born.
As for her due date? Again, the mom-to-be is extremely private. But according to The Sun, it's possible that Pippa could be due sometime in October.
One thing Pippa doesn't seem to have in common with her older sister, however, is suffering from severe morning sickness. Kate Middleton was actually diagnosed with hyperemesis gravidarum during all three of her pregnancies, according to Forbes, and she was even hospitalized for it. Pippa, by contrast, hasn't felt sick at all. (Not fair, right?) Six weeks after reports surfaced that Pippa was pregnant, she not only confirmed the baby news, but she also gave a little insight into how the first couple of months panned out, as Hello! Magazine reported.
In a column for the U.K. grocery store monthly magazine, Waitrose Kitchen, Pippa wrote, "When I learned the happy news that I was pregnant, I realized I needed to adjust my four to five-day-a-week [fitness] routine." According to Hello! Magazine, she continued, "I was lucky to pass the 12-week scan without suffering from morning sickness. That meant I was able to carry on as normal."
Personally, I have a lot of respect for parents who can hold out until the birth of their child to find out the sex of their babies, because I'm definitely not one of them. I've found out the sex of each of my three (soon to be four) children at the 20-week anatomy scan, which is the ultrasound done near the halfway point of pregnancy. Not that I'm necessarily into decking out a nursery/wardrobe in all blue or all pink, either way. I just enjoy having as much information ahead of time as possible. Plus, it's handy for narrowing down that list of potential names.
Whether Pippa Middleton and James Matthews end up having a boy or a girl, one thing's for sure: He or she will have plenty of cousins to hit up for playdates. I'm sure that Prince George, Prince Charlotte, and Prince Louis will be game for hanging out with their aunt and baby cousin. (Not to mention, Spencer Matthews and Vogue Williams' little guy, who will also be close in age.)
Hopefully, fans of the royal family will find out in a matter of weeks whether Prince William and Kate Middleton are gaining a little niece or a nephew!